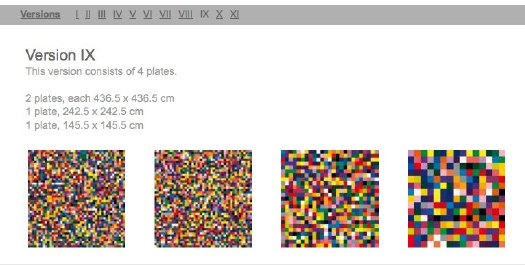 In addition to the world's greatest artist website, artist Gerhard Richter also makes paintings.
Now these two endeavors come together with the debut of a micro-site devoted to 4900 Colours, the set of 196 5x5 grids of 25 randomly applied enamel-painted squares, mounted on Aludibond panels. 4900 Colours can be exhibited in any of 11 configurations. Above is Version IX, which I chose for its apparent zooming-in-on-pixels quality.
One point of note: the website lists 4900 Colours in the /editions/ folder. Update: the microsite URL has changed; it is now listed in /paintings/
And two points of great relief: the 4900 individual squares were indeed sprayed-on enamel, not handpainted by the finely dressed artist; and there are no drop shadows. I think we are making real progress here.
www.gerhard-richter.com/art/paintings/4900-colours/ [gerhard-richter.com via @gerhardrichter]
Previous coverage of 4900 Colours:
The Making Of, with special guest star Benjamin Buchloh
About facture and that handpainted square
About drop shadows and diagrammatic abstraction