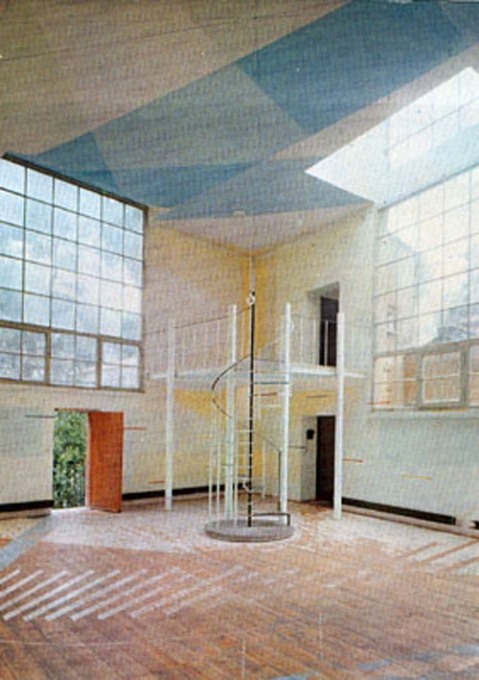 I have no willpower. I was going to hold off posting about this incredible project found on an incredible blog until I happily scored the book, but I couldn't wait. Now I can only hope that my post will somehow bring a copy of the 1974 exhibition catalogue, Le Volume Bleu et Jaune into my clamoring hands that much more quickly.
A Young Hare is a new blog by Nicolas Allinder, aka "nic the intern", who used to contribute to Ro/Lu. Nic posted about this rather insane project at l'Academy de France, where a group of anonymous architecture students petitioned to study a single room, their studio at the Villa Medici in Rome, for two years. The result: a 1974 installation in the studio in which the traces and volumes of light moving over time were inscribed on the surfaces of the space. Somehow, the exhibition was transferred to the Jeu de Paume in 1975.
Espace Tiphaine Bastille [now Edition Tiphaine put on a show dedicated to the project in 2003. The catalogue shows up in numerous library catalogues, but no inventories, and no scanned versions. Please, francophone web, get to work with the scanning and/or selling.
Le Volume Bleu et Jaune [ayounghare via ro/lu]
Previously, unnervingly related: on an unrealized art project