Arnolfo di Cambio et al, Basilica di Santa Croce, 1294-1442 [img via]
As the Artforum.com discussion of Nico Israel's Spiral Jetty travelogue turned from my smug fact-checking to the romanticisation of contemporary art, E.M. Forster's A Room With a View popped into my head. Just as Forster's English followed Baedekers around Italy–from this altarpiece to that fresco, from Firenze to Rome to Venice to Ravenna–a Contemporary Art Grand Tour has taken shape where Artforum pilgrims can demonstrate their faith.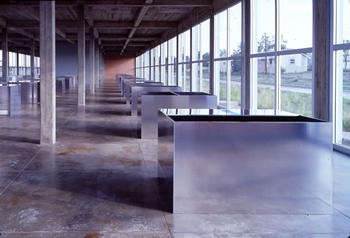 Donald Judd,
Untitled
, 1982-6 [image
via
]
In addition to Spiral Jetty, the CAGT includes: The Rothko Chapel; Walter deMaria's Lightning Field; Michael Heizer's Double Negative; Donald Judd's Chinati Foundation; James Turrell's work-in-progress Roden Crater; the Guggenheim Bilbao; and my own heretical favorite, Richard Serra's Afangar.
With Merchant/Ivory's version of ARWAV firmly entrenched in my own movie worldview, I saw a vision of a hipster artist roadtrip remake. Sort of Basquiat meets Thelma & Louise, with Reese Witherspoon as Helena Bonham-Carter, Josh Hartnett as Julian Sands and Daniel Day-Lewis as, well, himself.
ANYWAY, it turns out the fashion world's own Forster, English Vogue-er (and faux twin) Plum Sykes, may beat me to the intersection of Art & Film. Hintmag.com leaked the outline of Sykes' book, Bergdorf Blondes (which just got picked up by Talk/Miramax Books for $625,000, not including movie rights).
The hot narratrix (calls herself "Moi") dates, gets engaged to, and breaks up with the hot it-boy painter "Dan" ("Our heroine consoles herself that there is one thing worse than being disengaged to a person in a GAP ad, and that's being married to someone in a GAP ad.") [NB: Sykes dated, etc. painter/Gap ad star Dam(ian) Loeb.]; receives confidence-boosting advice as she pines for the hot LA filmmaker ("You are not superficial, you just look like you are because you wear a lot of Gucci.") ; and hightails it home to En-ge-land, perchance to marry the Earl-next-door ("after bonking at the SoHo Grand"). Sounds pretty much like my movie idea.
Should I go ahead and develop it? Or would it be like when there were those two Dalai Lama movies out at the same time?