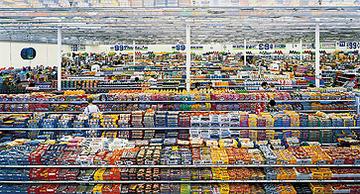 99 Cent, Andreas Gursky, 1999

Watching
Paul Thomas Anderson
and Adam Sandler discuss
Punch-Drunk Love
on
Charlie Rose
. The overly bright 99-cent store in the clip looked familiar, eerily familiar, and, sure enough, it is the same as Andreas Gursky's photo
99 Cent
, down to the giant "99-cents" banners on the back wall.
Anderson also tapped
Jeremy Blake
to create abtracted hallucinations experienced by Adam Sandler's character. Although Blake has become best known for his digitally animated abstractions, he is also quite fluent in film; he exhibited an illustrated screenplay, props, and digital "set" renderings in his first gallery show and has created at least one narrative animated short. [Thanks,
Travelers Diagram
.]
Mark Romanek
used
a Philip-Lorca diCorcia photo to communicate to Robin Williams his character's situation in
One Hour Photo
. "This is everything in terms of warmth and connectedness that your character can never have but desperately would want." Judging from the pronounced lighting and extremely deliberate framing of the scenes I've seen, diCorcia references are not just limited to mood or motive.
While you could chalk up the Bruce Weber-ish look of
American History X
to the general zeitgeist (If
you're
shooting muscly, shirtless Aryans in 1998, whose style would
you
appropriate?), it's something else when "important" but certainly not mainstream artists' work turns up. I don't know what that something is, though, and it's 1:30 in the morning, so I doubt I'll figure it out right now. I
do
know that we'd call the throwaway-sublime landscapes Richters, (but we were just kidding, I swear). And Jonah's shots got called Vermeers (or
Vermers
, to be precise) by a woman at our hotel in Albert.