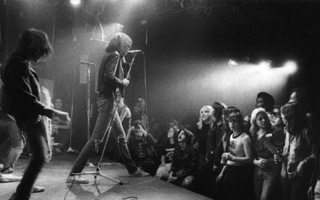 Bill Werde reports in the Times on the sad, dumb story of End of The Century, a highly praised documentary about The Ramones made by Michael Gramaglia and Jim Fields.
The article makes it sound like the two novice filmmakers are out more than $235,000 for production and post- to make their film, even though $150K of that is to Chinagraph, a post- house where Gramaglia's brother works, which is listed as a production company for the film. That's how indie docs work, my friend, you get your family to do a lot of work for free. So $65K out of pocket for a feature documentary? Nice work.
No, their real problem is entirely of their own making, and it's captured perfectly in this anecdote from the film's screening last year at Slamdance:
Penelope Spheeris, the director of the punk rock documentary "The Decline of Western Civilization" as well as "Wayne's World," introduced "End of the Century" at the Slamdance festival. Afterward, she found Mr. Fields. "She was like, `Wow, do you have all the music rights?' I was like: `Yeah! Sure! Totally!' I had no idea what she was talking about."
Yes, they made a movie about a band without getting rights or releases for the interviews, performances, footage, or music.
Similar thing happened to a friend of mine, whose parking lot documentary about Deadheads screened at Sundance, but the band harshed their buzz. Ultimately, they had to release it without the Dead's music, causing it to stink like the inside of a fry god's rusty Honda.
A rule of thumb for all you dumbass, cheapass filmmakers out there: Get and use Michael Donaldson's Clearance & Copyright: Everything the Independent Filmmaker Needs to Know. Bonus: In Filmmaker, Donaldson talks admiringly about Morgan Spurlock's deft lawsuit-dodging while making Supersize Me.