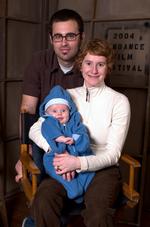 My heart is full this day, and I would be very ungrateful if I didn't get up and share my gratitude for Brother Hess, who has blessed us all so much this day with his special film, Napoleon Dynamite.
Brother Hess was blessed with the opportunity to make a movie for $200,000, and he was blessed again with the opportunity to sell it to Fox Searchlight at Sundance for a truly special, inspired price, even $3-4.75 million. It's a truly special and righteous price. And while choirs of angels sing his praises in heaven, choirs of critics are singing praises for the movie, which has touched so many people this day, and this weekend when it began a platform release. Even the Gentiles' hearts have been touched by Napoleon's sweet spirit.
Brother Hess shows us how, if we have faith, we can follow in Neil Labute's footsteps and someday become like him. [Even if he's gone astray embracing the fleeting temptation of theater instead of the eternal glory of cinema.] He is also an example unto us of the blessings that can come from exercising faith and hitting up your family and friends for your production budget. Families are forever, so I bet Jared thinks it's a real blessing that he has the opportunity to actually pay them back now.
We should try to liken the movie unto ourselves and take it into our daily lives throughout the week. Napoleon is blessed with the opportunity to overcome the challenges of being a huge dork, and through his words and deeds, he shows unto us what he does with the talents the Lord has blessed him with.
And while I haven't taken the opportunity to see the film yet, for I've been blessed with the opportunity to take care of one of God's littlest, specialest spirits, who's only allowed to see friggin' chick flicks at Loews on Saturday mornings, I want to tell you this day that I know this movie is good, and I have faith that it'll be funny and touching like unto Wes Anderson and Todd Solondz's earlier fruits.
The time is far spent, brothers and sisters, but I challenge you to see Napoleon Dynamite and find out for yourself if it isn't a truly good way to spend an hour and a half. In these latter days, if you tarry too long, it'll surely be gone from the theater. But I know beyond a shadow of a doubt that the day will come very soon when it'll be resurrected on DVD.