Gabriel Orozco usually installs his photos interspersed with other works–drawings, collages, and sculpture. The Hirshhorn show which opened last week is the first time they've been shown alone. The show felt instantly familiar, and not because I've been a follower, fan, and collector of Orozco's work for almost ten years. In that time, the artist has published several text-free collections of his photography. The exhibition feels like one of these artist books.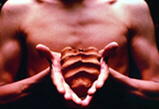 Each image on its own is almost incidental. This is purely intentional. From one of the earliest, most literal works in the show, My hands are my heart, Orozco takes the gesture of the artist as his theme. The gesture, no matter how slight, is at least one degree more concrete than that holy Duchampian standard of Artistic creation, the idea. But that doesn't mean a gesture is any more substantial, just the opposite.
Traces of the artist's breath on a grand piano. Condensation inside a recently removed wristwatch. Ripples from a stone thrown into a rooftop pool. Damp, cyclical bicycle tracks on an empty street. Orozco relentlessly experiments to discover the outcome and significance of even the most fleeting, insignificant gesture. That these gestures won't last even a few minutes is just fine with him.
In some of his work, it's hard to even tell what, if anything, Orozco's done; it's as if he's playing a game of Where's Waldo with us, challenging us to find his intervention. And just as often, especially in the photographs, the gesture is in the snapping of the shutter, the framing of the image. Through the camera's lens, Orozco invites us to see the world differently, to see it through his eyes.
Given the art world's current penchant for photography–especially for giant Gursky- and Gaskell-sized c-prints–Orozco's small format photos seem almost quaint. [Only recently has the artist given in to market pressure and printed his photos in larger sizes. Fortunately, none of these super-sized prints are included in the Hirshhorn show.] Their effect on the viewer doesn't come from easy, overwhelming spectacle, but through the accumulation of small elements over time. As the Japanese saying goes, Chiri mo tsumoreba, yama to naru (dust, too, piled up, can become a mountain).

And this is where the great power of Orozco's work lies, and where the Hirshhorn show doesn't quite deliver. Orozco's evanescent gestures gain cumulative power when they're manifested across various mediums, an effect which is muted by the photographs' formal homogeneity. But put the concentric ripples in a pool next to a boarding pass with compass-drawn circles on it next to a video of a soap bubble floating down the street next to–no kidding–a sculpture consisting of a clear yogurt lid pinned to the wall, and, to the viewer's surprise and amusement, the specific and banal becomes universal and profound. And I guarantee, you'll never see a bubble or a cue ball the same way again. You'll be playing Where's Gabriel wherever you go.
Related: It's almost two years since I took New Yorker critic Peter Schjeldahl to the woodshed over his negative review of Orozco's work. So Tyler, you're in good company.
Buy Extension of Reflection, the excellent exhibition catalogue, or From Green Glass to Airplane, the even better collection of stills from Orozco's video works.