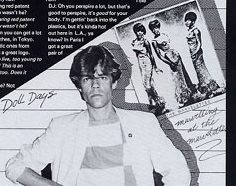 Have you heard of Wet Magazine? proto-Punk/New Wave LA deal from the late 1970's? I confess, my parents were just taking me to my first concert–the Osmond Brothers–in the late seventies.
Anyway, in the Nov/Dec 1978 issue, an unnamed-but-hardhitting journalist from Wet sat down to breakfast with New York Doll David Johansen and really worked him over. The whole interview is about style, style vs. taste, image, clothes, looks, and death. And taxes. Seriously. It's one of the most deeply, satisfyingly, superficial things I've ever read.
WET: Are you very attached to your image?
DJ: I din't know if I'm that conscious of it. When I see a videotape of myself I wonder who it is for the first couple of minutes. I listen to myself and I say, "Who is that guy? Listen to his voice. He sounds like he comes from Brooklyn or something."
WET: Where do you come from?
DJ: Staten Island
WET: How often to you go through image changes?
Sharpeworld has scans of the entire issue. The DJ pages are here.
Wet: The Dawn of the L.A. New Wave (style) [sharpeworld.com]
Previously: greg.org on NY Doll