Wow, we have entered the Sforzian Baroque period.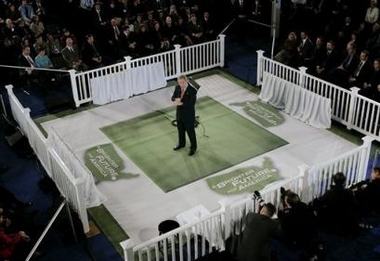 A GWB "townhall-style meeting" at a moving company in Sterling, VA took place on one of the most soundstage-like sets we've seen in a while. These screened supporter-packed events were very popular during the campaign. Here, the classic "Sforzian Backdrop" gives way to a more spatially complex theater-in-the-round composition, complete with white picket fences, white white people [oops], and on-message Astroturf [oops again].
But wait, there IS a Backdrop, a pop-out house, complete with shingles and clapboard siding. [and on-message banner, of course]. I'd be interested to see if WH Prod. built the house, or if it was pre-existing, and thus served as a source for the WHP design.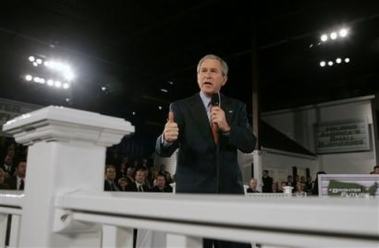 Whether it was intentional or not, you have to give the White House credit; this through-the-fence angle is a thoughful gift to the powerless liberal Photoshoppers clamoring for impeachment.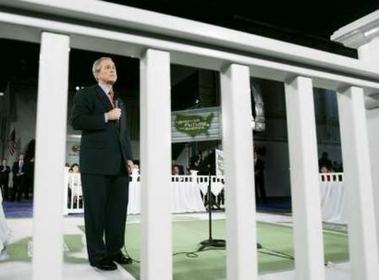 Or those dreaming of a good old-fashioned showtrial.


Images: top two: AP/Evan Vucci, bottom: Reuters/Jim Young via yahoo]
Shoutout to lowculture Matt for the Iraqi Defendant Crib reference.