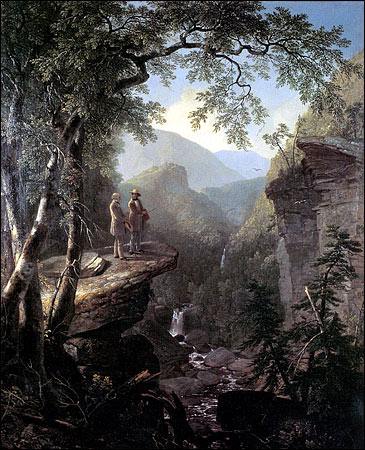 Is John Wilmerding the Karl Rove of the American Art world?
In May 2005, Alice Walton effectively broke ground on her Bentonville, Ark. museum project Crystal Bridges, by buying Asher Durand's 1849 painting Kindred Spirits from the New York Public Library for a reported $35 million.
As Carol Vogel reported at the time, Kindred Spirits had "long been considered one of the finest examples of Hudson River School painting." It depicts painter Thomas Cole and poet, abolitionist, and NY Evening Post editor William Cullen Bryant. Bryant was a proponent for the creation of both Central Park and the Metropolitan Museum of Art. Durand was commissioned to paint Kindred Spirits as a gift for Bryant. It was donated to the Library by his daughter in 1904, three years after the Library began construction in Bryant Park. [The site, Reservoir Square, had been renamed in honor of Bryant 20 years earlier, in 1884. I don't know if Julia Bryant was marking that anniversary with her donation.]
Kindred Spirits was one of 19 works the NYPL trustees decided to sell after what chairwoman Catherine Marron called, "Through deliberate review and thought over a couple of years." The Library selected Sotheby's to sell the works via both auction and private sale.
A month later, Walton won a sealed-bid auction conducted by Dara Mitchell, Sotheby's head of American Paintings and a Walton adviser. The underbidder was a joint proposal by the Met and the National Gallery to share the work.
Reports and critics noted the conflicts of parties in the transaction, to no effect: Walton was being advised by Princeton art professor John Wilmerding, who had recently been named a trustee at the NGA. The implication, of course, was that Walton had an unfair or unethical advantage vis a vis the NGA/Met's bid. Also, the sale was being conducted by another of her advisers. Also, she has $18 billion.
What I did not realize until now, despite following the Crystal Bridges story very closely, is that Wilmerding advised the NYPL on the sale of the Durand, too. From the NYT article in April that first announced the sale of Kindred Spirits:
"Sure there may be some politician who starts screaming that New York patrimony could be lost," said John Wilmerding, an American art scholar and Princeton University professor who was asked to advise the library. "But that would be unfair and unrealistic."
"If this has to happen, this is the way to go about it," he added.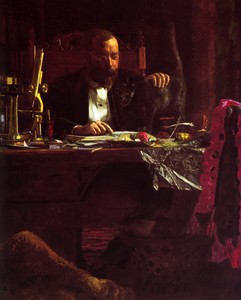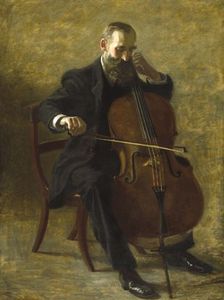 l: the Eakins Crystal Bridges got from Jefferson after locals hastily bought
Gross Clinic
r: the Eakins the PAFA sold to someone they don't know to pay for their share of same
And if I were the richest woman in the world who wanted to build a museum in my home town filled with art from a period in which, "the best works have been long spoken for," this is the way to go about it:
I would draw up a list of those works in the collections of non-museum institutions–libraries, medical schools, universities [the more cash-strapped the better], fine art academies, hospitals, schools, trusts, foundations, local and state governments–and then I'd send out my esteemed advisers to broach the topic of fiduciary responsibility and core mission over the course of several years, if necessary.
Wilmerding has been coy on the subject [link via todd], but the directorship of Crystal Bridges is almost certainly part of his deal with Walton. Does that deal also involve a multi-year strategy of rolling up major artworks in local, nominally public collections across the country by coaxing their institutions' non-expert boards into selling to you?
Karl Rove orchestrated the systematic firing of US Attorneys across the country and undisclosed changes in the congressional approval process for their appointed replacements. Rove's strategy to manipulate local prosecutions and investigations to Republicans' favor by installing political loyalists in the top law enforcement jobs in key electoral battlegrounds only began to come to light when locally isolated patterns and evidence were considered together.
With their low, low prices, Wal-Mart stores systematically destroyed the locally owned-and-run economies of thousands of cities and towns across the country. All the profits that used to stay in town are now shipped off to Bentonville. Now, Alice Walton is spending some of that money, by coming back to those same regions and buying up their artistic patrimony.
With the announced involvement in yet another highly localized dispute over the sale of major, donated artworks, it's time for Crystal Bridges and its advisers, its director apparent, John Wilmerding, and people on the other side of the boardroom table, to come clean on its actual role in such sales, including Kindred Spirits.
Ah, forget it. "It's time for" what? Who do I think I am, Lee Rosenbaum? I'd just like to see this whole thing blown wide open and to be entertained by the increased trouble and expense it could make for some ethically challenged, sanctimonious, yet unaccountable people. New York's greatest cultural institutions have either already been thoroughly schnookered by Crystal Bridges, or are in on the fix. I got no horse left in this race. Besides, twenty years from now, visiting Walton's one-stop shop for American Art will be so much more convenient than traveling to a bunch of fourth-tier college museums anyway. Roll'em up, John!
9/20 update: And then there was another one. I missed the reports from May that Alice Walton was seen shopping at the Maier Museum of Randolph College in Lynchburg, Virginia, and that College officials refused to acknowledge her visit. A short time later, the college, in dire financial straits, announced it was considering selling its 100-year-old collection. [thanks to Kriston for the story. He has a great deal of coverage of Crystal Bridges goings-on on Grammar Police.]
Apr 11, 2005: New York Public Library to Sell Major Artworks to Raise Funds
May 13, 2005: New York Public Library's Durand Painting Sold to Wal-Mart Heiress
May 14, 2005:A Determined Heiress Plots An Art Collection [nyt]
Upstaged by Architecture: Crystal Bridges' modern design contrasts with collection. [arktimes via fromthefloor]