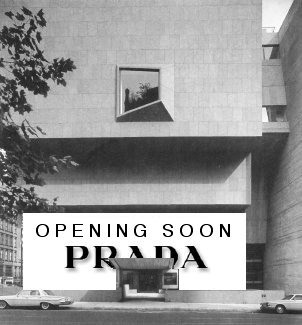 So after the Whitney opens its downtown branch, it'll sell its Marcel Breuer building on Madison?
That's the way I read the blueprints being unfurled in the NY Times the last couple of months. Buried in a late December story led by the Smithsonian, Robin Pogrebin first floated the idea in this lighter-than-air paragraph. It's not even a lob; it's a feather, and so's the denial:
Rumors have circulated that the Whitney might consider selling its 1966 building by Breuer, but [Whitney director Adam] Weinberg dismissed the idea. "That's not going to happen, because we love it," he said.
Then this morning, in Carol Vogel's piece about Leonard Lauder's $131 million pledge, the idea of a sale came up again, this time with a time frame:
Mr. Lauder said that the money required the museum not to sell its Marcel Breuer building on Madison Avenue at 75th Street for an extended period, although he declined to specify how long.
A idea of a Breuer sale is raised repeatedly and without attribution, then quickly, but just as squishily batted down:
Although Mr. Lauder's donation is likely to quiet rumors that the Whitney might decamp from the Breuer building, the museum's plans remain an open question. Since the Whitney set its sights on the meatpacking district, the city's arts world has fretted that the institution might not be able to afford two locations.
Oh, has it? I'm clearly a MoMA fanboi, so maybe I'm just out of the loop–every loop in the city's art world–but I have never heard a rumor or a plan or even a speculation about the Whitney selling its Madison Avenue building. Nor have I heard anyone fret that the museum, which has operated up to four locations in the city at one time, might be unable to operate two.
So unless these Times reporters are totally making this up, which I doubt, where are they hearing this? From Whitney insiders? Is a deal not to sell the building "for an extended period" substantively different from a plan to sell the building after "an extended period"?
Whitney Museum to Receive $131 Million Gift [nyt]
High five to Elmgreen & Dragset for their 2001 piece, Opening Soon / Powerless Structures, Fig. 242 [via tanyabonakdargallery]