More 1970's video awesomeness from Anton Perich's YouTube channel: this time it's John Chamberlain with a flensing knife in The Dakota.
The site is a smallish, park-facing room in writer John Hersey's Dakota apartment. Much of the space is taken up massive, chest-high foam blocks lashed together with cords, which a gruff Chamberlain, dressed in full Pacific Theatre-veteran style–work shorts, mermaid tattoos, back hair, and suspenders–casually carves into one of his trademark sofas as a clutch of jaded groupies look on.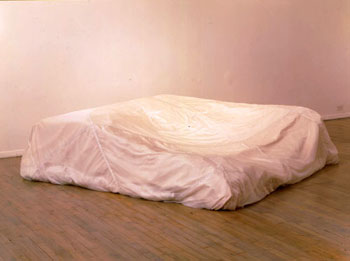 Unlike the low-slung prototype Chamberlain famously made for Donald Judd, Hersey's couch stays high enough to climb into.; and it has two seating pits, not one; also, it doesn't get the sleek, silk parachute cover, just a bunch of striped navy sheets, probably from Bloomingdale's. Also, as far as I can tell, no one videotaped the inaugural line of coke being cut on Judd's sofa.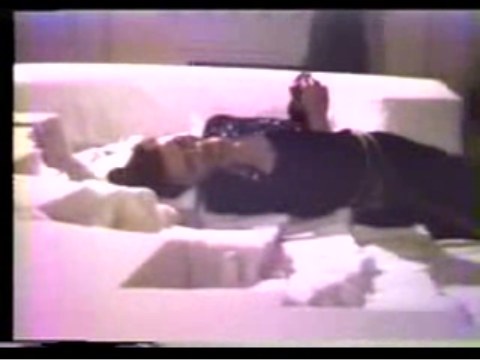 The scale of Hersey's sofa, plus the rawness of its fabrication remind me of Andrea Zittel's space-filling Raugh Furniture series in a way that both Judd's and Yvonne's more furniture-like sofas don't.



And watching Chamberlain, it's impossible not to think of whale blubber being carved, either, which brings to mind–of all people–Matthew Barney. For all the car crashing of Cremaster 3 and the Vaseline-slice&molding of Drawing Restraint 9, I'd never thought of these two sculptors together before.
Anyway, if you've always wanted a Chamberlain sofa, but didn't want to spend five figures for it, this is a great how-to video.