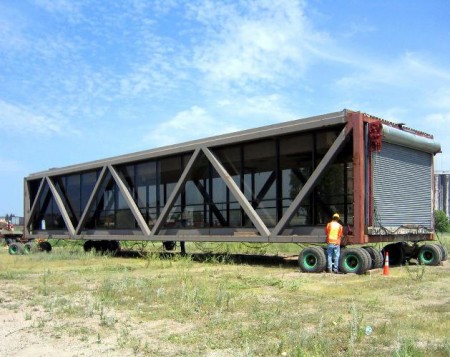 Ho-ly smokes.
The Minneapolis architecture firm City Desk Studio just put a skyway up for sale on craigslist. A freakin' skyway.
It's a steel girder and glass box, 20 x 83 feet, and 14 tall, designed by architect Ed Baker ["the father of the skyways"] to connect JC Penney's and Powers department stores. The 12-inch concrete floor accounts for about half of the skyway's 280,000-lb weight. [That's half a Richard Serra retrospective, for those keeping score at home.] It was apparently assembled in three sections and filled in with glass after it was installed.
City Desk Studio's asking price is currently $79,500, which is a huge discount from the $1.2 million they expected to bring in by turning the skyway into the Skyway Retreat lakefront cabin and selling 12 4-week shares for $100,000 apiece.



And it's probably a little more than they paid for it in 2006, when the architects bought it on a whim at a University of Minnesota blind auction. According to a report at the time, it cost them more to move it [two blocks] than to buy it.
Right now, the skyway is sitting somewhere "near the University of Minnesota Minneapolis campus," and you'll need to move it. Fortunately, the U of MN is on the Mississippi River, so if you could get the skyway onto a barge, you could float it down the river and into the Gulf of Mexico. From there, you could load it onto a freighter and sail it anywhere on the East Coast. Hell, you could sail it anywhere in the world.
Then plop it down right next to the smug schmuck who just topped off his shipping container house, the one with the 8-ft ceilings and the less-than-10-ft wide rooms. Then invite him over for a hot dish.
Skyway for sale – THAT'S RIGHT – AN ACTUAL SKYWAY! – $79500 (Minneapolis) [minneapolis.craigslist.org, via walker blog, thanks andy]
A Disconnected Skyway: Downtown architectural firm considers new options for an 'icon' of the skyline [2006 downtown journal article, pdf]
City Desk Studio Skyway Retreat (unrealized) [citydeskstudio.com]