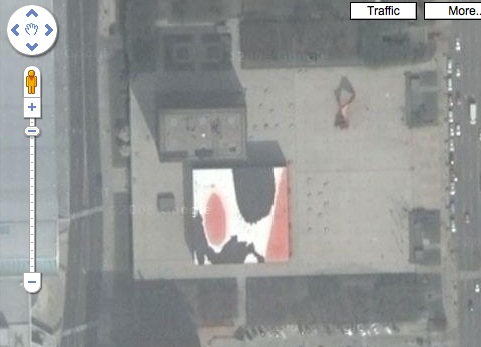 In 1967 Henry Geldzahler, while lecturing the Women's Group at the Grand Rapids Art Museum, suggested to Mrs LeVant Mulnix III that the city might do well to install a public sculpture on the plaza in front of city and county buildings being designed by Skidmore, Owings & Merrill. Mrs Mulnix promptly wrote to Congressman Gerald Ford to ask for assistance in obtaining a grant from the newly established National Endowment for the Arts for the commission.
SOM senior partner William Hartmann, who was at that time completing the installation of Picasso's monumental sculpture in front of the firm's Chicago Civic Center, came in to consult on the project. Alexander Calder was chosen, and La Grande Vitesse which sits on Calder Plaza, has been the symbol of the city for decades.
Grand Rapids was the beneficiary of the friendship forged between Calder and Mulnix, and in 1974, the artist made a gift to the city of Calder on the Roof, a giant red, black and white mural executed on the roof of the Kent County Administration Building.
The work was intended to be seen from the surrounding buildings, which basically means the adjacent City Hall. Of course, it looks pretty sweet on Google Maps, too.