Estuaire is the three-time biennale in beta for the Nantes region. This year, the second incarnation includes I.C.I., Instant Carnet Island, a habitable, riverfront collection of micro-architecture which is for rent–EUR10/person/night, bring your sleeping bag–and for sale.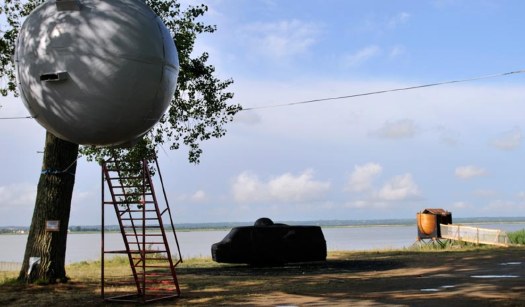 Several of the structures have been put on French eBay. Available items include both Antonin Sorel's L'étoile de l'amour [above, left], which is several puns at once on L'étoile de la mort [the Death Star, though in Star Wars ep. IV, it was actually called l'Etoile Noire]; and Damien Chivialle's ark for "amoreux hedonistes" [above, right]; but not, alas, Ant Farm's time capsule/video lounge recreation of their Media Van [above, center], which could probably teach the kiddies a thing or two about hedonistes, amiright?
There are less than two full days left, and so far, with only one 16-seat picnic table by the Dutch design firm 24h Living meeting the reserve, the whole thing seems destined to be a primarily conceptual exercise.
Unless people start bidding now!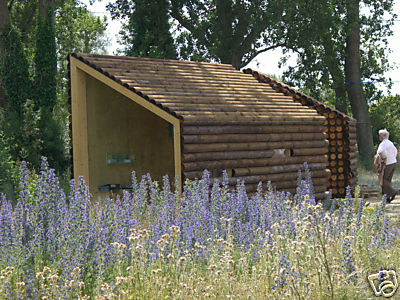 The Flake House [above, currently EUR2310] by the Paris architects OLGGA is pretty rustic-slick, about as practical as a folly can get; and Dre Wapenaar's Treetent [current bid: EUR2000] is a classic. But I think I'd take Spanish artist Alicia Framis's Billboard House [top] first. The opening bid is just EUR1000 [including breakdown and loading, but not shipping or reassembly].
Originally conceived for the Land project Rirkrit Tiravanija organizes in Thailand, Billboard House consists of just three billboards and a raised floor. It threads the utopian needle very nicely. It's unprecious and low-tech, a totally plausible-seeming affordable housing solution–for folks living the Thai, along the side of the road, do all your cooking and socializing and hygienic activities outdoors lifestyle.
Estuaire 2009 | Instant Carnet Island runs through Aug 16 [estuaire.info via thingsmagazine]
check out Estuaire09's items on eBay France, auctions end July 31 Paris time [ebay.fr]
Billboardhousethailand (2000) [aliciaframis.com]
update: in the end, everything had at least one bid, but only two of 24h Living's three tables sold.