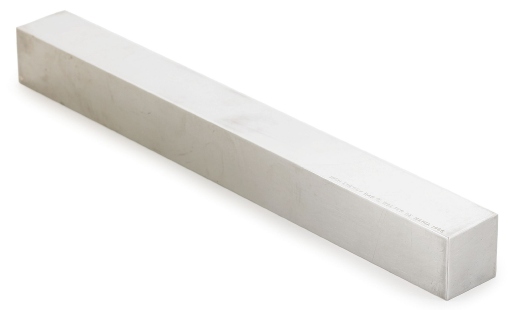 After blogging about it the other day, I thought it was high time I get the real story on the mysterious Walter de Maria stainless steel edition I'd been watching for all these years, the one which has never come up for auction or resale because the artist engraved a restriction on the work itself that it could never be resold for more than $100.
So I called the collector, Charlie Cowles, and asked him about it. Which I probably should have done years ago, because I remembered the work completely wrong.
The piece is actually titled High Energy Bar, and the only thing engraved on it is the title, the artist's name, and the date, 1966. And a copyright notice, because I guess that's how they used to do it back then. [Any questions, just ask Robert Indiana what he thinks about it.] But a $100 resale restriction? Charlie said he'd never heard it.
That's when I realized what had actually been engraved where. Turns out when I'd asked about the piece 15+ years ago, Charlie had explained that he'd gotten it in 1967 from de Maria's Los Angeles dealer, Nicholas Wilder for $100, and that because it was an unlimited edition, it'd never sell out. That price number and the idea of perpetual availability had lodged in my brain, and over the years, had gotten conflated with the object itself.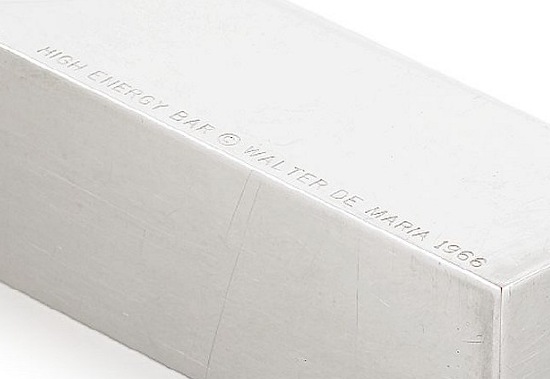 Once I figured out the mystery of High Energy Bar, I realized examples of it have been shown and sold all over the place throughout the years. [Though Betty Freeman had one, too, it wasn't included in the Christie's auction of her collection.]
The most recent instance pretty much pokes a hole in my market-proof $100 de Maria delusion. In May, a High Energy Bar belonging to the late gallerist Eva af Buren was sold in Stockholm. It went for 220,000 SEK, nearly USD31,000, and more than ten times the pre-sale estimate.
af Buren's de Maria, which she acquired in 1969, was no. 49 of what the certificate calls "an infinite series." Not only is the certificate required "in order to be operative and authentic," but the certificate–depicted below, and let me state for the record, that is one of the snazziest artist certificates I've ever seen–"will be incorporated as a part of the whole work of art, to be known as the High Energy Unit."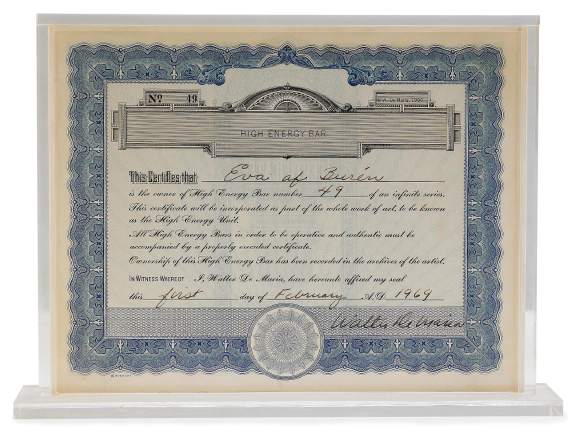 Interestingly, though there are hundreds of mentions of High Energy Bar, there were only two mentions of the "complete" piece, High Energy Unit. [It makes me start to wonder about the underappreciated existence our poor certificates must lead, even as they've become so important to the authenticity and integrity of the work. Is anyone else making sexy artist certificates–or art about certificates, even–that remain ignored or unknown by everyone but the work's purchaser? Will an artist make a work whose aesthetic or artistic payoff is actually the [secret] certificate itself? If you have or know of any awesome certificates languishing in any file cabinets out there, by all means, let me know.]
Next step is to check with de Maria and see if these High Energy Bars are still available, or if the series' infiniteness has become, like infinity itself, more of an abstract concept. It makes me wonder what number it's reached. And what it sells for.
It could be possible that even if the work is still available from the artist himself, collectors could put a premium on vintage examples with low numbers and historically interesting provenance. Like how On Kawara's older date paintings sell for significantly more than newer ones, or how Flavins with "vintage" light fixtures sell for more than those with replacements. Frankly, it seems like a valuation system that's explicitly at odds with the artist's concept of the work itself. And maybe it's something that the market will slowly process and correct for as conceptually driven work becomes better understood.