Now the truth can be told, says Lisa Kline, the New York corporate stylist who was called in on a moment's notice over Labor Day weekend by the McCain campaign to provide clothing and hair and makeup for, first, Sarah Palin, and then her entire clan. The result: a politically damaging $150,000 designer clothing shopping spree at Neiman Marcus that clung to the giant, phony Palin ship like a noxious fart cloud until it finally ran aground on election night. Or, uh, something like that.
Now that Sarah Palin has swum to shore and is settling scores with McCain staffers and her "New York stylist" in her book, Kline has finally agreed to tell her side of the story to the NY Times.
It's good, nostalgic reading. But the most important thing Sforza-wise is to clear up some early reporting on the story that I did here on greg.org, and possibly burnish the good name and credibility of one of my sources.
On October 22, 2008, soon after the $150,000 shopping spree story broke, I was combing through the McCain campaign's financial filings, when I spotted both the stylist's name, Lisa Kline, and the name of a Minneapolis baby store, Pacifier, which I recognized from my dadblogging activities. [I'd first tried to identify what kind of stroller the campaign had supposedly purchased for the prop baby Trig.]
The most prominent stylist named Lisa Kline I could find was from Los Angeles, a boutique owner who worked with Paris Hilton. I tracked down a video of her, showed it to Jon, the owner of Pacifier, and asked if he recognized her. He said he was "pretty sure" he did. It took a couple of days before I could track down LA Lisa Kline to deny her involvement.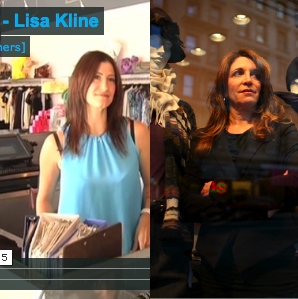 In her Times story today, Lauren Lipton mentions this East Coast vs West Coast Kline controversy. But now that we have NY Kline's photo [right], I think Jon's eyewitness account bears out. Those two stylists named Lisa Kline do look an awful lot alike.
Only Her Stylist Knows for Sure [nyt]
Previously, 10/22/08: NO WAY: Did Sarah Palin Use Paris Hilton's Stylist??
Sarah Palin's shopping spree is so Sept. 10th