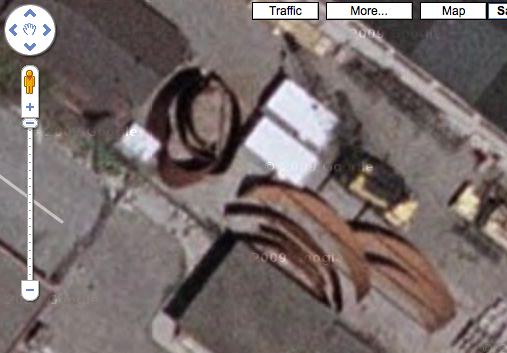 So last winter, after finding Jake Dobkin's, and Nathan Kensinger's photos during my search for Richard Serra sculptures visible on Google Maps, I got a little fascinated with the massive Cor-Ten sculptures Richard Serra stores in a riverfront machine yard in Port Morris, the Bronx. Google Maps showed a Torqued Spiral as well as several long, arced steel pieces [above]. A presumably more recent image from Microsoft Live/Bing [below] only shows the spiral.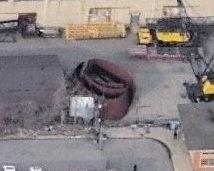 After talking to some friends at Gagosian and because there is a giant I-beam with "Bellamy" on it, I'd originally deduced that the Torqued Spiral was Bellamy one of Serra's first spiral sculptures, which he'd shown in the fall of 2001.
But that turns out to be wrong. Writing about her visit to the stored Serra for the journal Afterall, Mary Walling Blackburn reports that it is not Bellamy after all. Bellamy is currently in England.
The "Bellamy" I-beam on-site [visible in Nathan's photos], is apparently not a nametag or some such. Instead, they are used for stabilizing the curved pieces during transport and installation. They can be seen in use in Art21's series of photos of Joe being installed at the Pulitzer Foundation in St. Louis.
So that begs the question: what Torqued Spiral is it, then? Inquiring minds might want to ask the artist next time they see him. I know I will.