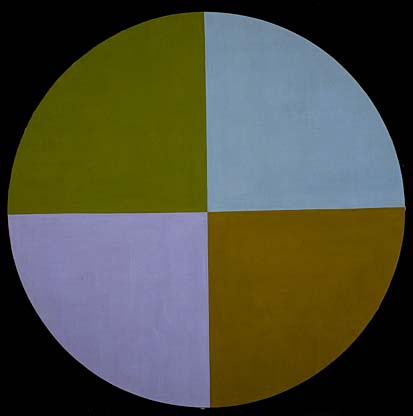 I've been poking around to find examples of the artwork of Mary Pinchot Meyer, the Washington DC painter who was connected romantically to both Ken Noland and JFK. When her work is discussed at all, she's generally been associated with the Washington Color School, typified by Noland's and Morris Louis's saturation techniques using liquid paint on unprimed canvas.
But that's clearly not what's going on in this work, Half Light, from 1964, the year she died. It is crisply painted geometric abstraction. If it resembles anything, it's proto-Hard Edge-style Minimalism.
[2019 update IT IS NOT. According to Mollie Salah's May 2019 lecture at the National Gallery of Art, Meyer did in fact use the archetypal WCS staining technique, figuring out how to control the edge of her paint. We need to see more even more!]
"This looks like that" is a pretty feeble art critical tool, I know, but it's still fascinating to consider Meyer's work when looking at, say, Carmen Herrera's Rondo, which was made a year later in New York, and which entered the Hirshhorn's collection in 2007, only after Herrera's incredibly prescient-seeming work was "discovered" by the market in 2004.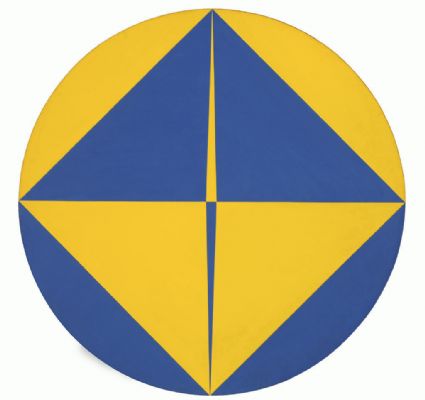 Whatever the circumstances, contexts or differences between these two artists' works, Herrera's remarkable story serves as a reminder of just how incomplete our generally accepted notions of art history are, even–or especially–for the very recent past. And it also throws deserved doubt on the arbitrariness of amateur vs. professional, and successful vs failed when it comes to artistic production.
It's impossible to say from one painting, of course, but do we know that Mary Meyer should not be considered one of most accomplished painters ever to work in Washington DC?
Half Light, 1964, donated in 1976 to the Smithsonian American Art Museum by Meyers' sons [americanart.si.edu]
Rondo, 1965, Carmen Herrera, Hirshhorn Museum purchase, 2007 [hirshhorn.si.edu]