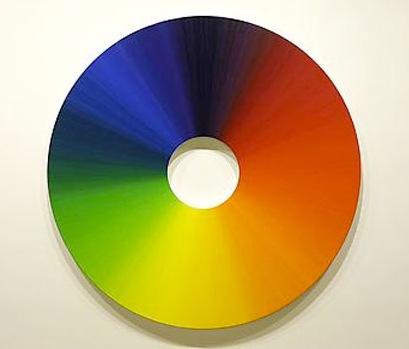 Been waiting to finally see one of these. Looks like this week is my chance:
In the main gallery upstairs, Eliasson exhibits a series of watercolor drawings on paper. Configured in sequences, they use ellipses and circles as narrative exercises on the perception of space and movement. While shades and hues play an important part in these watercolors, the oil painting Colour experiment no. 3 (2009) is part of ongoing research into color conducted at Studio Olafur Eliasson. The studio has been developing a set of handmade oil paints that range through the full spectrum of visible light, experimenting with their physical properties and interactions. Circular in form, the painting expands on the traditional model of a color wheel, wherein each of 360 degrees is painted in one color and corresponds to its complementary afterimage located directly across from itself.
That image above is Colour experiment no. 7, 2009, which was shown in Seoul, but I'm just sayin'
Olafur: The Magazine, originally uploaded by gregorg.
Olafur Eliasson, Multiple shadow house, February 11 – March 20, 2010 at Tanya Bonakdar Gallery [tanyabonakdargallery.com]