So weird/awesome. A steel panel, prefab, moderne house designed by William Van Alen, and built on top of a craggy boulder at 107th & Riverside, in 1937, seven years after completing his somewhat higher profile project in Midtown, the Chrysler Building?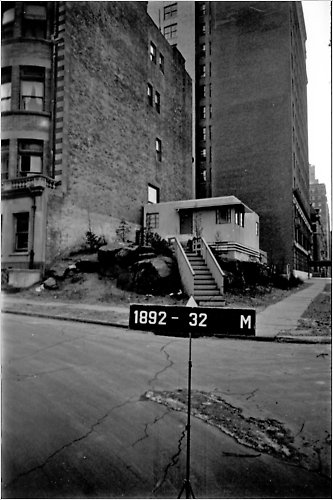 Christopher Gray has the story–and finds this picture in the Municipal Archives–in
NYT's Streetscapes column.
According to "A Home in Cellophane," a chirpy 1935 Time story about prefabs [found via the Van Alen Institute], Van Alen was actually a director of National Houses, Inc., just one of several prefab startups that were going to pull America's housing market out of the Depression.
The focus of Time's article was actually another venture, American Houses, Inc., who unveiled architect Robert McLaughlin's modular, modernist "machine in which to live," the Motohome, at Grand Central Palace, the same place where Albert Frey & Lawrence Kocher's Aluminaire House had debuted in 1931. [Aluminaire was extensively re/dis/covered here on greg.org in August 2009. Here's a contemporary photo by curator Erik Neil of the house, which is currently on the Islip campus of the NY Institute of Technology.]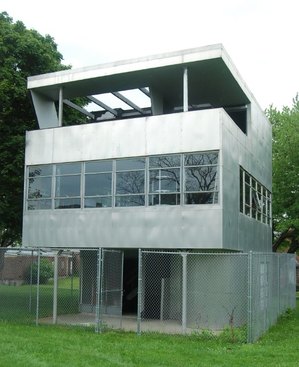 Aluminaire was a hastily constructed one-off; the Motohome was a product. It went on "sale," tied with a red bow, and wrapped in cellophane [like the future!] at Wanamaker's department store on April 1. [The half of Wanamaker's that didn't burn to the ground now houses the Astor Place KMart.] There must be some publicity shots or newsreels of this somewhere.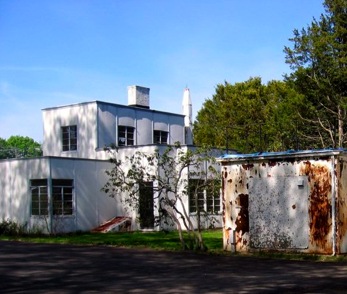 As our country is not dotted with tens of thousands of early International Style or Moderne steel- or asbestos cement-paneled cottages being tended and detoxified by new generations of design-loving caretaker owners, these products failed.
American Houses scrambled to traditionalize its design and materials, and apparently sold around 150 peaked-roof, woodframe Motohomes by 1938. But as of 1991, it sounds like only two of McLaughlin's original modernist Motohouses were still standing; that was when one was discovered in New London, CT, and preservationists persuaded its owner, Connecticut College [image via] to restore, not demolish it. Now the College is working to restore the other modernist prefab next door, dubbed The House of Steel. [Both were bought and used as rental properties by an adventurous museum director named Winslow Ames, who wanted to test the 1930s media's prefab hype.]
Van Alen's National Houses designs did not fare so well. In 1936, his 2-story steel prefab design, called "The House of the Modern Age," was erected for three months on a vacant lot at 39th & Park. It's the little white box in Berenice Abbott's photograph: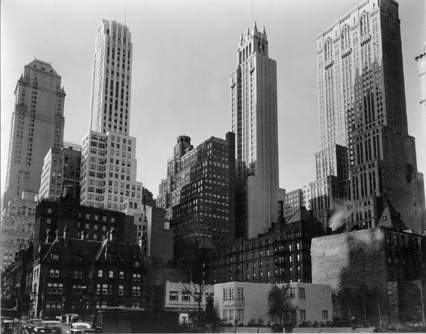 The house at 107th & Riverside was an exhibition house, too. And it was obviously torn down, because if it still existed, I'd be living in it. I can't find any other mentions of Van Alen's prefab structures being built, much less surviving.
[2022 UPDATE] Did I hallucinate or didn't at least one of Van Alen's houses get transported to Westchester somewhere, and I saw it for sale a couple of years ago buried under an epic amount of upscale renovations?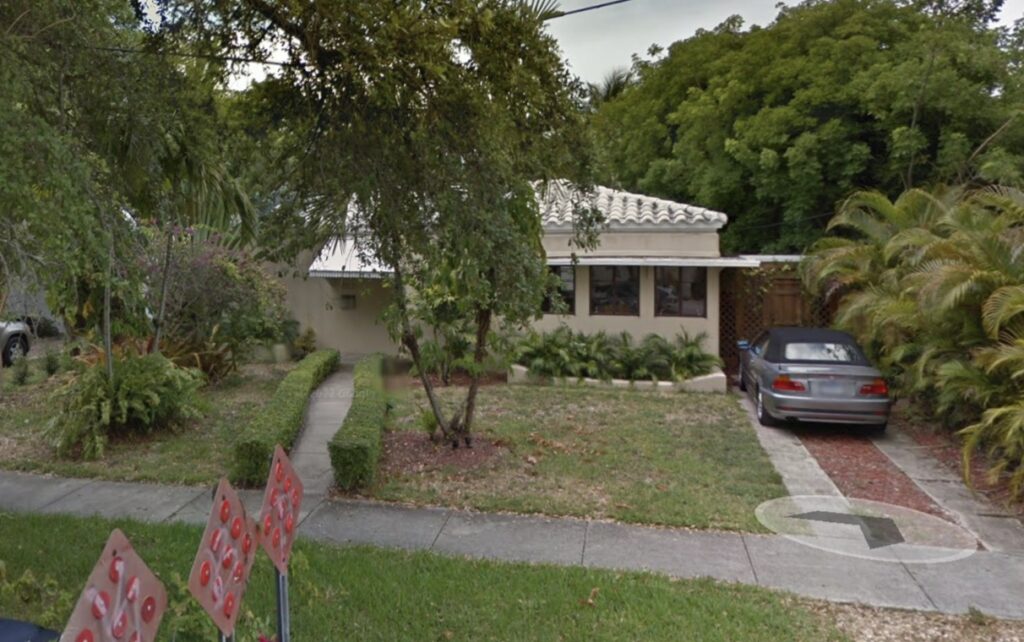 What I do know is that Dan Nichols emailed to say he came across a Van Alen house in Miami. Apparently in 1936, Clarence Beecher, the Florida rep for National Houses, Inc., built himself a company house in Shorecrest, off Biscayne Blvd. It has been subsumed by the local vernacular: stucco and tile roof, but in its heart beats the metal paneled prefab House of The Future.