A couple of months ago, I wondered aloud about the reason Yves Klein schlepped all the way out to the Parisian suburbs to make the leap into the void for his famous photocollage, Leap into the Void.
The site, 3, Rue Gentil Bernard, Fontenay-Aux-Roses, has changed since October 1960, but it houses a church dedicated to Sainte Rita, with whom Klein had a spiritual connection. [A votive offering assemblage Klein made during one of his pilgrimages to St. Rita's monastery in Italy is in the Hirshhorn's just-opened retrospective.]
As it turns out, I should've just been reading my Art News instead. Kim Levin wrote about Leap Into The Void in the March 2010 issue, and reports that it wasn't Catholic mysticism, but Klein's other passion, judo, that drew him to Fontenay-Aux-Roses.
She cites the 2006 obituary for photographer Harry Shunk who, with his assistant Janos Kender, shot Klein as he "climbed to the top of a wall and dived off it a dozen times–onto a pile of mats assembled by the members of his judo school across the road."
But wait, is it the judo school or the pile of mats that was across the road? After a bit more searching, I found this intro to a 2006 monograph, L'envol d'Yves Klein: L'origine d'une legende, which basically puts Fontenay at the center of Klein's story. [It might help that it was written by a couple of Fontenaysiens, Terhi Génévrier-Tausti and Pierre Descargues.] Anyway, Klein was raised there, and his friend had the Olympic Judo Club there. So yeah.
The best part of Levin's story, though, comes from Michelle White, who curated "Leaps into the Void: Documents of Nouveau Réalist Performance," at the Menil:
after she discovered an odd object in the Menil archives: a piece of slate. It wasn't art–just a piece of slate "collected" by Dominique de Menil in 1981 from the mansard roof that Klein presumably leaped from.
The Matteses would be so proud.
White's show includes other photos from the Leap, including this spectacular action detail, which are in the Menil's holdings: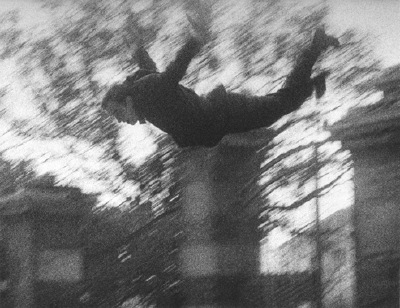 Looks like someone's gotta book a trip to Houston.
Yves Klein's Leap Year [artnews via @johnperrault, yes, he's on twitter now]
Leaps into the Void: Documents of Nouveau Realist Performance, through August, 8, 2010 [menil.org]