After bagging on Blake Gopnik's comments on Marcel Duchamp playing the buyers of his readymades for fools, I started looking more closely at Duchamp's actual statements and working process. It's so easy to consider him as just a source of ideas, and to forget that in fact, he expended a great deal of effort and time on the creation of objects.
On the other hand, that dude would sign just about anything that wasn't nailed down. Including readymades that were really made, or found, or bought, by others. All over the place. The only thing that stopped him, it seems, was Arturo Schwartz, who insisted Duchamp stop signing stuff to protect the value of the 1964 readymade editions.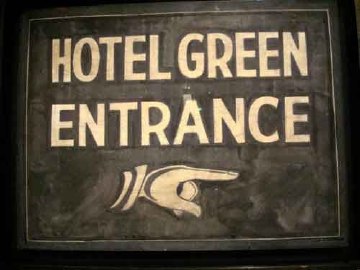 One example: when the late photographer, painter, and avant garde filmmaker Dennis Hopper met Duchamp on the day of the opening of his 1963 retrospective in Pasadena, he grabbed a sign from the Hotel Green, where Duchamp was staying, and asked him to sign it. And he totally did.
Another, from Francis Naumann's incredible practice history, Marcel Duchamp: The Art of Making Art In The Age Of Mechanical Reproduction, which I picked up at the suggestion of John Powers [Naumann's gallery was the site of that fantastic Duchamp chess show last year.]:
During the time of the Pasadena exhibition, Duchamp was invited to attend a breakfast in his honor at the home of Betty Asher, an important collector of contemporary art who lived in West Los Angeles. Among the thirty or more guests she invited, one of them, Irving Blum, then owner of the Ferus Gallery in Los Angeles, asked Duchamp if he would consider signing a bottle rack he had found and purchased from a local thrift shop. Just in case the artist agreed, Blum brought the item along with him to the breakfast. When Blum asked, Duchamp responded: "Gladly," whereupon Blum retrieved the work from the trunk of his car and Duchamp signed it on the bottom rung, adding the usual inscription, "pour copie conforme," and the date: "1963-14". When Blum was in the process of returning this treasured artifact to the trunk of his car, Richard Hamilton reportedly rushed out of the Asher house and quipped: "You are, of course, aware of the fact, Mr. Blum, that in order to devalue his work, Duchamp signs everything." [p.235, emphasis added for the awesome parts]
Indeed, and one of the last things he signed was the replica of Bicycle Wheel which Hamilton had made, and had asked Duchamp to sign the next time he passed through London. [Blum donated his Bottle Rack, below, to the Norton Simon Museum in 1968 after Duchamp's death.]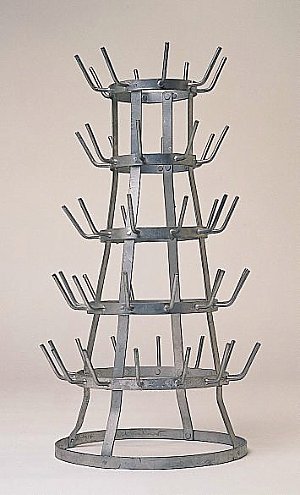 And Pontus Hulten told how Duchamp said the Modernamuseet could save money by making a bunch of readymade replicas for a show instead of shipping them: "Duchamp later signed everything. He loved the idea that an artwork could be repeated. He hated 'original' artworks with prices to match." [p.213]
Which is making me nod and laugh out loud right now as I sit here, with a pile of pens, signing my name over and over and over on the stack of certificates for the edition I'm doing with 20×200.com, which is going to be announced very soon. Stay tuned.