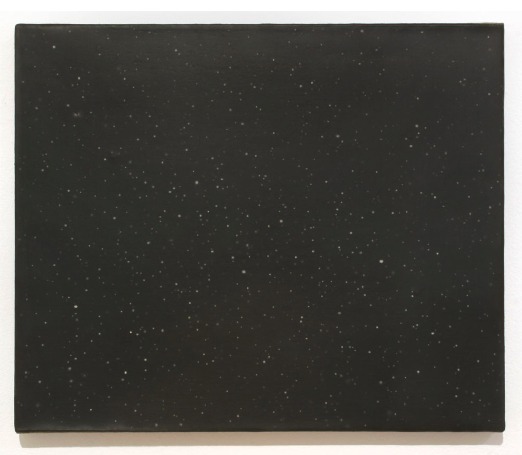 The Brooklyn Rail's Phong Bui interviewed Vija Celmins about her show at David McKee Gallery
Brooklyn Rail: About the night sky paintings, I always wanted to ask you, with all of the subtleties of gray tones embedded in the white stars and the black sky, how do you build up the surface while controlling the balance of tones?
Vija Celmins: Well, the rather boring technique is this: what I do is I first draw in a pattern that breaks the surface, and then I draw the different sizes of circles for the stars. Next, with a small sable brush, I apply a tiny drop of liquid rubber; it hardens and I build up to a desirable thickness. I then paint different layers of ivory blacks that have been mixed with burnt umber, ultramarine blue, and sometimes with a bit of white. And I use alkyd, which takes about two days to dry, and once it's dry, I then take off the little rubber bumps, which create those little holes with various kinds of white, which is mixed with a little bit of cerulean blue, and sometimes with raw umber or yellow ochre.
Rail: What kind of white?
Celmins: A combination of titanium and zinc white. And I keep filling those holes until they come up to the same level as the black surface.
Rail: That's intense.
Celmins: And I often sand it a little, so that the whole surface is totally uniform, flat, and has very tight skin.
It's the perfect balance between boring and intense that makes her paintings such marvels.
Vija Celmins with Phong Bui [brooklynrail.org via two coats of paint]
image: Dark Galaxy, at David McKee Gallery through June 25 [mckeegallery.com]