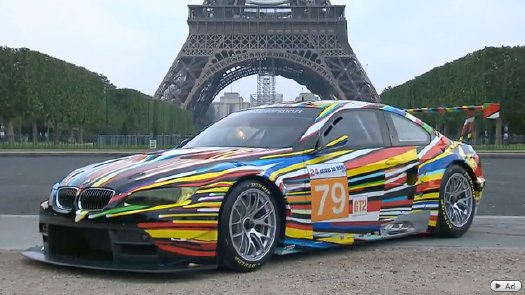 It's a testament to the PR-fed, context-free media machine, I guess, that Olafur Eliasson, the last artist to make a BMW Art Car, goes entirely unmentioned in the promotions of Jeff Koons' iteration. [One exception: Richard Chang at the Times.] Or maybe it's a testament to Olafur's machine: he gets to have his over-the-top, ice matrix experiment, but he never has to be trotted out and lined up on the lawn at a car show as another corporate trophy.


True, Koons' hyper-graphic BMW is also more in the tradition of earlier, painted Art Cars by the likes of Calder and Warhol. His design, while dazzling and generally awesome, also feels deeply insignificant. It makes clear the difference between art made of cars and cars decorated by artists.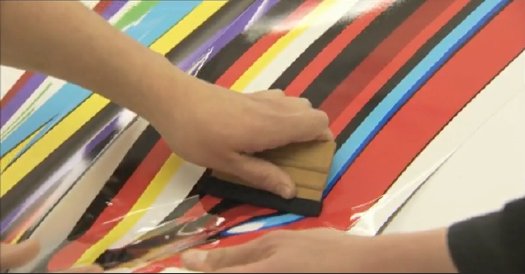 Which I don't mean in a bad way, understand. Far from it. Significance is not always a virtue.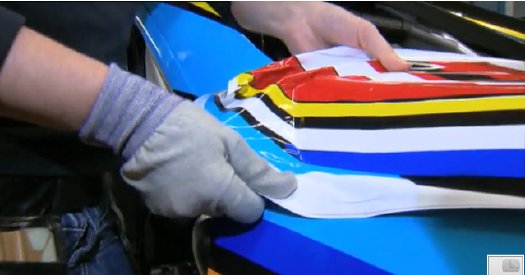 The breakthrough of the Koons BMW [which I have to laugh at when I say it, because it's a car dealer in Virginia. There's Koons Ford and Koons Nissan, too, and all these cars around DC have the Koons signature on the back, which makes me smile in traffic sometimes, imagining they're all a big, banal, found object edition.] Anyway, the breakthrough of the Koons BMW is technological. It's the opposite of Olafur's impossibility; you can almost literally replicate it anywhere.
As this making of video shows, the design is a vinyl wrap, designed and printed in Koons' studio, and with a double layer of clearcoat. Everyone should have a giant vinyl wrap printer in his house.

The design templates for standard vinyl wraps are widely available. Judging by the mom&poppiness of the businesses wrapping their ads on Scions these days, it can't be that expensive. All that's lacking, obviously, is an artist's touch.
There are now no barriers to an artist making his own vinyl wrap design, and selling it in edition. Be sure the design is flexible enough to look good on whatever car models collectors might have. [Or you could make them work a little bit by limiting it to, say, Range Rovers.] You'd probably let it be reprinted as needed, but also limit the certificate to one car at a time. And consider offering some zipcode exclusivity for sales; you wouldn't want any awkward moments in the parking lot at the Atlantic Golf Club in Bridgehampton. Or maybe it'd be interesting, who knows?
If Editions Schellmann can do a series of editions of artists' doors, and if Art Production Fund can do shower curtains, why can't some enterprising foundry publish a whole set of artists' vinyl car wraps? It would not be significant, but it could be awesome.