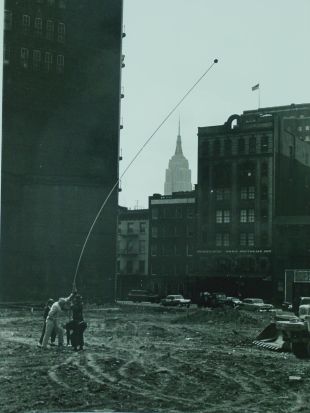 Len Lye called his kinetic artworks Tangible Motion Sculptures, or just Tangibles, because they made visible motion and other phenomena, like the wind. In 1960, he and his wife Ann, along with some other friends, headed over to huge vacant lot near their home in the "West Greenwich Village," and set up the first Wind Wand. It was a 40-foot aluminum tube with a small sphere on the end to catch the breeze.
Judging by this photo, from the Len Lye Foundation at New Zealand's Govett Brewster Gallery, where the wand is leaning in the opposite direction from the blowing flag, this Wind Wand was a little too long and heavy to work quite right.
Also, the photo is backwards. That vacant lot, at the corner of Horatio and Hudson Streets, is now a city park. The building houses White Columns. Here is a correct version, followed by the current site on Google Street View.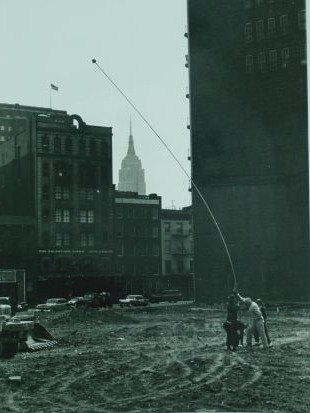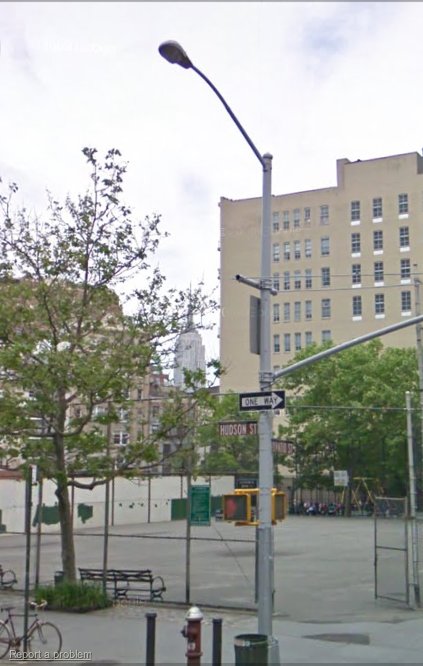 Which reminds me, I hope the preservationists are taking up the cause of cobra head street lights.
By 1961, Robert Moses had announced plans to raze the West Village, including the Lyes' house in Bethune St and their neighbor Jane Jacobs' place and replace it with high-rise residential towers. To prove that their neighborhood wasn't a slum, local artists rallied to stage a one-day exhibit at St Luke's Chapel. Though Franz Kline apparently contributed a painting inside, the Times' small article didn't mention him, only the presence of Lye's eight Wands in the playground. Roger Horrock's biography of Lye quotes an unnamed news source as saying the St Luke's wands, which ranged "to nearly 30 feet," were a hit with the kids: "The wands became ultra-modern May Poles just right for a junior bacchanal."
Lye later installed two Wind Wands on top of their house on Bethune Street, and five at NYU, where he taught. Miraculously, their gentle, hypnotic swaying fended off the forces of flashy, high-rise redevelopment, thereby preserving the West Village forever as a quirky, affordable haven for artists of all sorts. And so it remains to this very day.