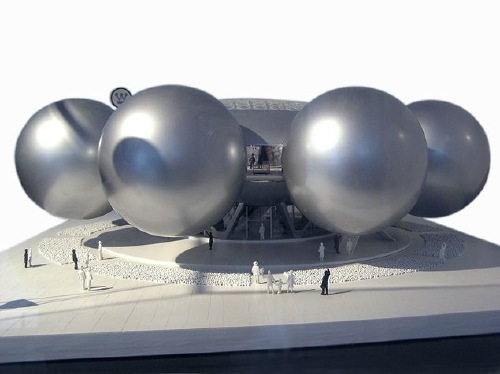 I love Eliot Noyes as much for his own designs as for his role as catalyst, instigator and patron for some of the greatest modernist objects and buildings of the postwar era.
And yet somehow I hadn't made the connection to his unrealized design for the Westinghouse Pavilion at the 1964 New York World's Fair, which consisted of eight 45-foot diameter silver spheres floating off of a central domed foyer. Giant silver spheres in 1961? Wherever would the idea for such a form come from?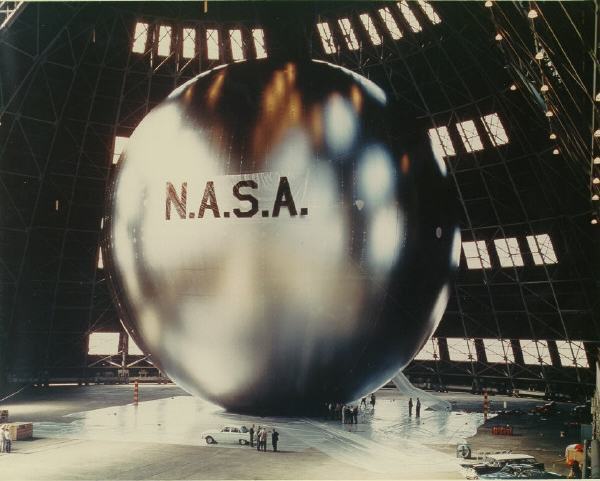 Thanks to dealer-turned-design curator Henry Urbach, SFMOMA acquired the Westinghouse maquette in 2006, but the museum's description doesn't make any reference to Project Echo or any design references at all.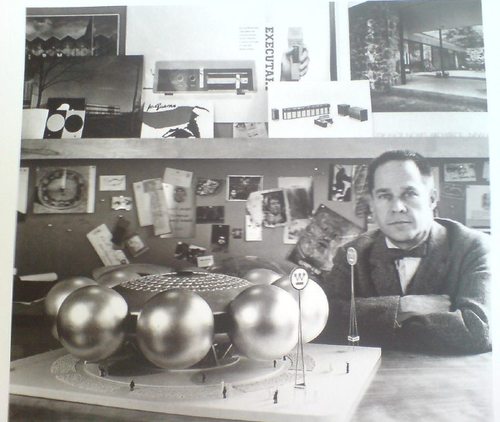 Next, I turned to Phaidon's sleek-yet-frustrating Eliot Noyes monograph, written by Noyes's longtime collaborator Gordon Bruce. Though it's chock-full of info and photos [including the one above, of Noyes posing with his maquette], it turns out to be more bio snapshot than design history. There's a little about the bureaucratic wrangling that nixed the pavilion [and replaced it with a second company time capsule, to match the 1939 one], but nothing about the design.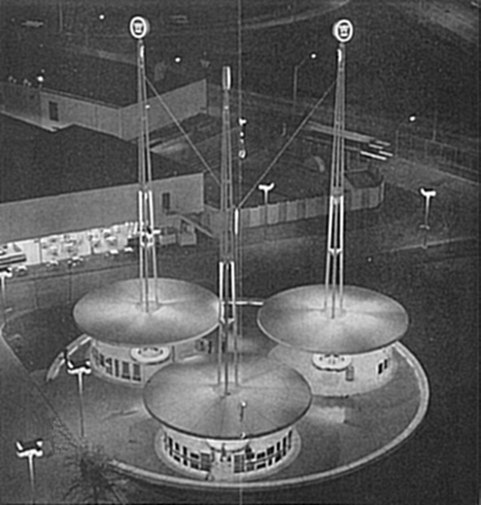 Oddly, there's no mention at all of the scaled-down pavilion which was eventually built [image via], even though it has the maquette's signage, and it looks awfully similar to the round gas station canopies Noyes would design for Mobil a couple of years later. [image via agilitynut.com's great collection of gas station design photos]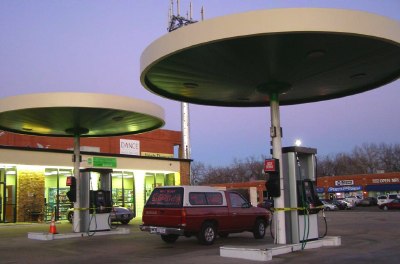 update: indeed, Noyes & Assoc. are credited in the World's Fair Time Capsule Pavilion Brochure, which turns out to be the uncredited source for Wikipedia's image. That's the torpedo-shaped time capsule right there, btw, suspended 50-ft above the ground by the three masts.
Eliot Noyes, Westinghouse Pavilion, 1961 [sfmoma.org]