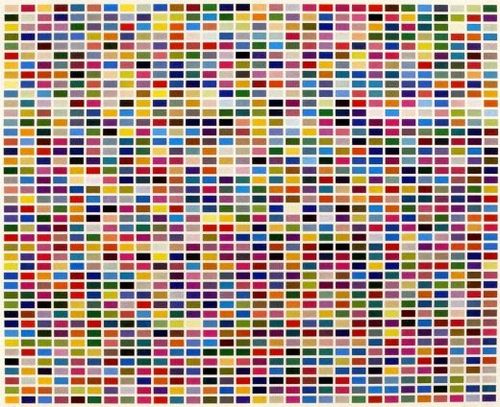 Well, a color chart print, anyway.
In 1974, at the height [and end] of Gerhard Richter's production of painted grids of colored squares and rectangles, he also published Colour Fields. 6 Arrangements of 1260 Colours, a portfolio of six prints [the auction house Lempertz said silkscreen, but the artist's own website says offset] on white board. There was an edition of 32, plus a few proofs and extras.
One of those loosies [top, looks like it was an arrangement b] was later signed and given to Carl Vogel, the head of the Hamburg Academy of Fine Arts, along with, hello, Richter's sketch for the piece, which contains numbers corresponding to the various colors.


It's practically a Richter paint-by-numbers kit! I'm sure whoever bought the set in June from the auction of the late Prof. Vogel's collection has already started coloring it in, even though paint was apparently not included in the sale.
Lot 1169, June 2010: Gerhard Richter, Untitled (Colour fields 1260 colours in 6 arrangement), sold for EUR57,000 [lempertz-online.de]
Colour Fields. 6 Arrangements of 1260 Colours, 1974 [gerhard-richter.com]
Previously: How To Make A Gerhard Richter (Squeegee) Painting