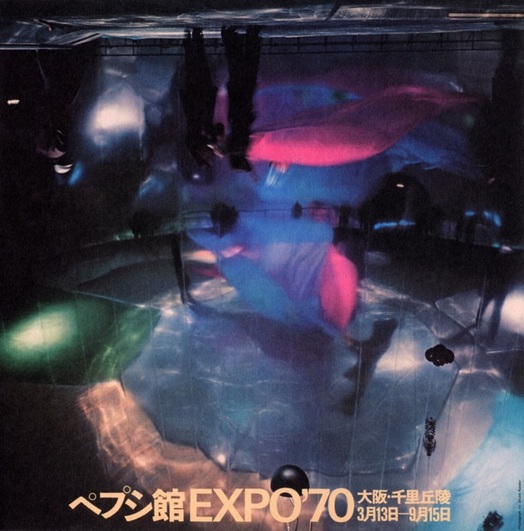 image via Morioka Yoshitomo's online syllabus of Art & Technology
I don't collect posters, I really don't. I just buy some. And then some more.
But when I saw the description of this poster in the Getty's E.A.T. archive finding aid, I knew I had to add it to the list:
Pepsi Pavilion
printed in Japan, Shunk-Kender photograph of interior of the mirror dome. It shows a rehearsal of the work by Remy Charlip, "Homage to Loie Fuller," performed at the opening ceremonies. The photograph is printed upside down to emphasize the three-dimensionality of the real image the concave mirror dome produced. Signed by all artist/engineer participants, unnumbered.
Signed or not, I have to track it down.
E.A.T.'s Pepsi Pavilion still kind of blows my mind, several years after I first fixated on it. And it only belatedly occurs to me that though the project was officially a failure, which E.A.T., Kluever, and Whitman were left trying to make the best of, there is a Japanese domestic perspective on it that remains largely unexplored, at least in the English-speaking world. I will have to look into that.
Meanwhile, it's almost enough to know that the Japanese term for Pepsi Pavilion is ペプシ館, pronounced Pepsi-kan.
Also, Remy Charlip's "Homage to Loie Fuller"? Do we even have a complete list of all the artists, happenings, programs, and performances that went unrealized when Pepsi cut off the cash?
Also, Shunk-Kender? Those guys really, really got around. Have we already done shows or books or something on them? Art History, I'm talking to you.
UPDATE WHOA, and I have heard back from Art History. At least I got her voicemail. Stay tuned.
Previously: E.A.T. it up: the Pepsi Pavilion at Expo 70 in Osaka
Q. was the Pepsi Pavilion art?