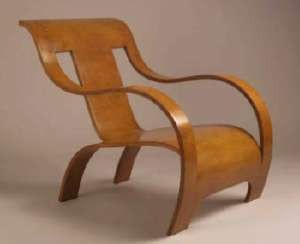 Can I just tell you how awesome the Contra Mundum I – VII lecture compilation is? How did I not buy this before? How did I not fly out to LA in 2009 for these talks, each one of which is greater than the next, and the first was pretty damn near perfect?
Rupert Deese kicked off the lecture series at the Mandrake with his incredible tales of building and documenting and investigating furniture for and by the likes of Donald Judd, Josef Albers, and Gerald Summers.
Oh, how I totally remember seeing those incredible 1929 Gerald Summers single-sheet molded ply chairs at Bergdorf's in 1990 [above] and having my furniture mind blown. Only I didn't realize those were the first and only good knock-offs, and I didn't snap them up for a song when they were changing the display.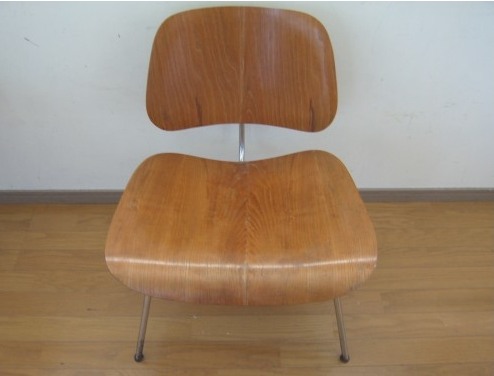 But enough about me. The story I have to put here is not mine, or even Deese's:
When I was at the information desk at the Met, Norma, one of the people there, told me a funny story about Charles and Ray Eames. They were doing a show at the Met and they showed up; it was about two years before Charles died. Ray died ten years later to the day. So the information desk, most of you know, is round, in the middle of the main hall there, and when people come to visit they come up and they say, "The Eameses are here." So you call up to the department and you say, "The Eameses are here," and then you politely ask, "While you are waiting for the curator to come down can you please step away from the desk?" So, as the Eameses stepped away from the desk Ray dropped something. So, she did not bend her knees, she just reached down and picked the thing up. And Norma saw her rear end and said, "Oh, my god, that is the plywood seat!" And so she told me that. And, well, the Eames furniture is allied to the human form, I'd say–quickly I would say that–but Judd's furniture is allied to this. [gesturing to the room] It's all about the structure around it.
Contra Mundum I – VII, published in Nov. 2010 by Oslo Editions [osloeditions.com via ro/lu]
Alex Klein and Mark Owens explain Contra Mundum in 500 words [artforum.com]
Buy Contra Mundum I-VII online via textfield, $18 [textfield.org]