As you might expect, I've been going deep into the history and context of Robert Smithson's Spiral Jetty lately. I'm in Salt Lake City right now, meeting folks and listening and trying to gather some firsthand perspectives on the issues and dynamics around the Jetty and Great Salt Lake: things like land use, lake management, State leasing, oil and mineral exploration, tourism, climate and ecosystem, and so forth.
While I'm obviously trying to figure out how best to approach the current lease situation, I'm also trying to get a handle on the history of the lake and Rozel Point in the Spiral Jetty era.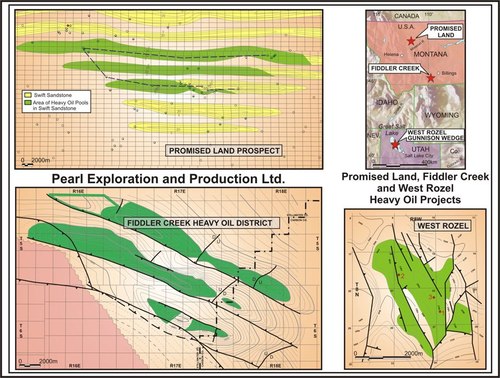 And so I come across things like these oil field maps from a 2007 press announcement by BlackPearl, the Canadian heavy oil specialists who partnered with and then acquired Petrohunter's leases to the West Rozel field. It was the inadvertent discovery in 2008 of Pearl's drilling applications, execution of which apparently had to happen by 2008-9 to keep the leases valid, which set off an environmentalist, art blogger, and art world protest. And yet, the transfer of the leases from American Oil to Petrohunter in 2006 and Petrohunter's detailed plans for drilling test wells, were part of the company's regular SEC filings in 2006.
Which is not exactly the point right now. I'm just kind of caught off guard by the beauty of these maps [well, 3 out of 4.] T8N on the left side of the West Rozel map I recognize: Township 8 North, the same State map page as the Spiral Jetty's site. The contour lines are, I believe, surface topography, while the green forms are the oil deposit or field structures, and black lines are faults or other subterranean geographic features? I haven't looked it up yet.
They remind me of Oil Seeps at Rozel Point, a mid-1960s Utah Geological Survey report of the area that Smithson owned, which makes a cameo in his Spiral Jetty film. I bought a copy years ago. Really should dig it out by now. [They also remind me of passages in a Julie Mehretu painting, maybe with a bit of Bochner thrown in. It's got to mean something that Spiral Jetty made its public debut In Kynaston McShine's 1970 MoMA exhibition, "Information," but what, I can't say just yet.]
The other unexpected discovery also relates to the form of the West Rozel field, only this time, it's language. Specifically, the abstract for "Heavy-Oil Deposit, Great Salt Lake, Utah: Section V. Exploration Histories," a 1987 report for the American Association of Petroleum Geologists, by Louis C. Bortz. It's just fantastic writing, an incredibly dense bit of information encoded in the highly specialized language of the petroleum geologist. It also echoes with Smithson's writing and film about Spiral Jetty. Which is a good reminder that this context of geology and geologic time and structure was important for Smithson, as was the oil drilling and hunting history of Rozel Point. Anyway, here's the whole thing:
The western portion of the Great Salt Lake contains two large Neogene basins, informally called the "North" and "South" basins. These basins are separated by an arch that trends northeast between Carrington Island and Fremont Island. Both basins are filled with Miocene, Pliocene, and Quaternary sediments and volcanic rocks. Each basin has an estimated maximum thickness of over 4300 m (14,000 ft) of Tertiary rocks. Palynology indicates the oldest Tertiary sedimentary rocks present in both basins are Miocene, but a radiometric date indicates the presence of Oligocene rocks. Structurally, the basins are slightly asymmetric, deeper on the east with an obvious boundary fault zone on the east flank of each basin. Faulting is present on the western flanks but of a lesser magnitude. The most common structural traps found in these basins are anticlinal closures, faulted noses, and fault closures. These structures are probably the result of continued differential subsidence of pre-Miocene blocks throughout Neogene time. A total of 13 exploratory wells was drilled by Amoco in the Great Salt Lake, from June 1978 to December 1980, resulting in an oil discovery at West Rozel and oil and/or gas shows in eight other wildcat wells. The West Rozel oil field produces from fractured Pliocene basalts at a depth of 640-730 m (2100-2400 ft). The trap is a faulted, closed anticline covering approximately 2300 acres. The discovery well, Amoco No. 1 West Rozel Unit (NW NW Sec. 23, T8N, R8W, Box Elder County), has an oil column of 88 m (290 ft) but produced at rates of only 2-5 BOPH with a gas-lift system. The oil is 4° API gravity, 12.5% sulfur, and has a pour point of 75°F. Two development wells that have smaller oil columns (No. 2, 26 m [85 ft]; No. 3, 60 m [194 ft]) were equipped with a downhole hydraulic pump and produced oil at rates up to 90 BOPH. Additional development of the field was not initiated because of the high water cut and the high cost of operating an "offshore" field.
I love it. And I love trying to make enough sense of it to visualize the field in my mind.
The other point, though, is Amoco. In 1978. They were exploring for oil, mapping the field and drilling test wells beginning in 1978, eight years after Smithson completed the Jetty and five years after his death. And I think they were doing it right next to the Jetty, which was submerged and apparently forgotten, ignored, or unknown. It's been called the Amoco jetty, so I think the utility jetty just east of Spiral Jetty was built at this time, and used for as the base for exploration activities. Chew on that for a while. Right next door.
But in Artforum in 2002, Nico Israel tracked down Ken Pixley, another onetime oil leaseholder at Rozel Point, who said that he and his father had built that oil jetty in 1980. There are period state documents which show the 500m jetty cutting through a 40-acre "Pixley lease"; I think documenting this site history and activity is going to take some doing.