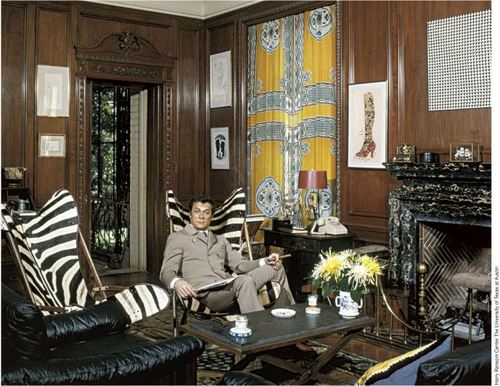 The backlog around here is so big, I was joking with a friend this morning that I should rename the blog, "Things I've Been Meaning To Write About." But for some reason, I can't let another day go by without saying something about the upcoming auction of items and artwork [!] from The Estate of Tony Curtis.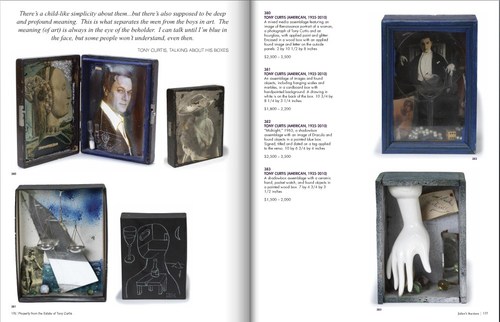 Tony [actual name, Bernie Schwartz] was not only a famous actor, he was a dedicated artist. A painter, mostly, though he also made objects, sculptures, shadowboxes filled with found objects, slightly less creepy than Joseph Cornell's.
The Julien's Auctions catalogue has some big pull quotes from the late artist himself. The best one is on the boxes:
There's a child-like simplicity about them…but there's also supposed to be deep and profound meaning. This is what separates the men from the boys in art. The meaning (of art) is always in the eye of the beholder. I can talk until I'm blue in the face, but some people won't understand, even then. [emphasis added]
Anyway, it's really, really not the art that interests me, so much as something like an admiration, maybe with a mix of pathos? Sympathy? Is that too presumptuous? About the mix of over-the-top celebrity living combined with a generally unappreciated pursuit of artmaking.
[According to the Independent, art was his primary occupation for the last 25 years of his life. The article is also strangely focused on how such a manlyman as Curtis could produce such feminine art: Matisse-inspired paintings and Bourgeois [uh, no, really??]-inspired boxes.]
First, up top, just wow. Collector AND artist. There are several photos in the Julien's catalogue from this shoot, which I assume was in Curtis's old Beverly Hills place. Mondo Blogger wondered what that Op Art piece over the fireplace is? It's not in the sale. Neither are those zebra skin butterfly chairs. Too bad. The Warhol Some Like It Hot Shoe drawing is, though.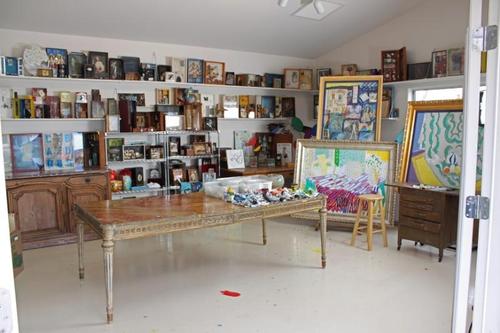 A lot of boxes in his studio. Holy smokes, did you know that he got his faux 18th-century dining/work table from Marlene Dietrich?? [Lot 385: est. $2-4,000]
According to the Independent, art was Curtis's primary occupation for the last 25 years of his life. But it must also have been his lifelong passion. Just look at the young Curtis there working shirtless at his easel.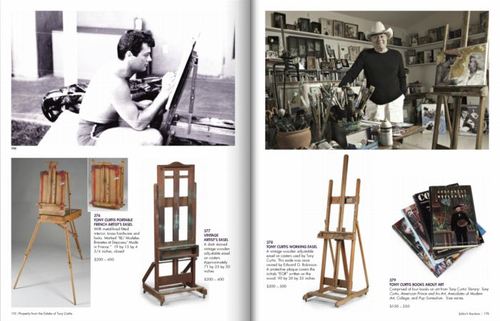 That article is also strangely focused on how such a manlyman as Curtis could produce such feminine art as his crafty little shadowboxes, or his Matisse-inspired paintings. Speaking of paintings and easels, did you know Curtis got this easel from Edward G. Robinson? He even put a protective plexi cover over EGR's initials.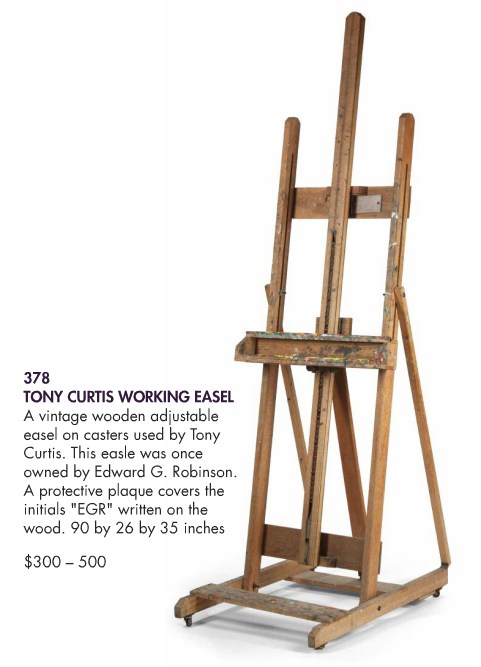 Curtis was apparently selling limited edition gliclee prints on canvas of his work, signed and with "applied objects and handpainted enhancements," on his website, which, good for him. The original overpainted photo of Curtis and Sinatra is probably my favorite of his works. He really cut loose. Very Vegas.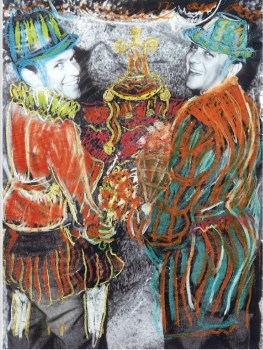 But it kind of breaks my heart a little to read the lot descriptions for some of these prints [actually, the Sinatra piece is the original]: "Numbered 9/250 on the verso. NOTE: According to the Tony Curtis Estate, only 15 copies of this giclee were produced."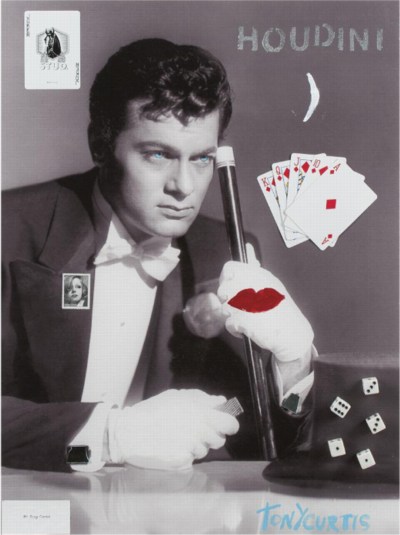 But these late painting/print/whatevers, as well as many of the shadowboxes, appear to be explorations of Being Tony Curtis. With maybe a little exploitation thrown in. I guess he figured his celebrity was what people wanted [to buy], hopefully in editions of 250. Oh well.
There are mountains of household tchotchkes and objets, too, typical ticky-tacky decorator infill–and yes, I think having Tony Curtis's porcelain elephant plant stands would be cooler than having generic Pasadena antique store porcelain elephant plant stands, but not by much.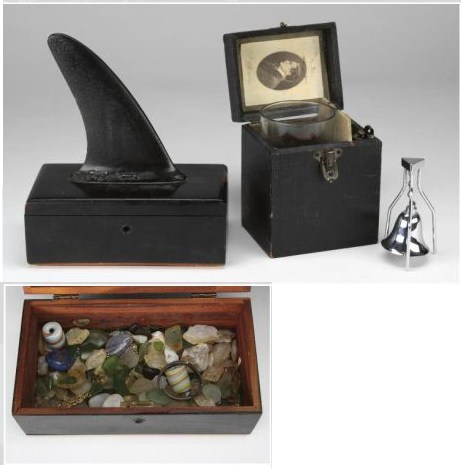 But there are a few things that seem to bear the mark of the artist's hand more than others. The pair of black-lacquered cedarwood boxes, for example, one filled with sea glass and topped with a shark fin-like surfboard skeg, and the other lined with one of Houdini's bookplates. I mean, right?
If I end up bidding, though–and this may be why I'm writing about it, to psyche myself up or out of bidding–there's only one thing I'm going for: the Tony Curtis Artwork Chandelier.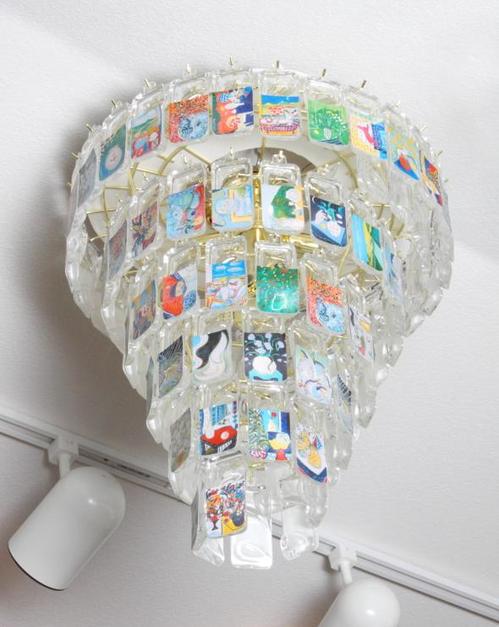 A unique piece, it's described as "A spiral brass hanging light fixture with multiple Lucite tags, each featuring a different piece of Tony Curtis artwork." An entire Curtis retrospective in a spiral light fixture. It's Boite en Valise-meets-The True Artist Helps the World by Revealing Mystic Truths. [Lot 400: est. $300-500] Maybe I'll hang it over Marlene Dietrich's dining table.
Property From The Estate of Tony Curtis, Sept 17, 10:00AM PST [julienslive.com]