Well that's kind of fantastic, like Victorian- era Rauschenberg.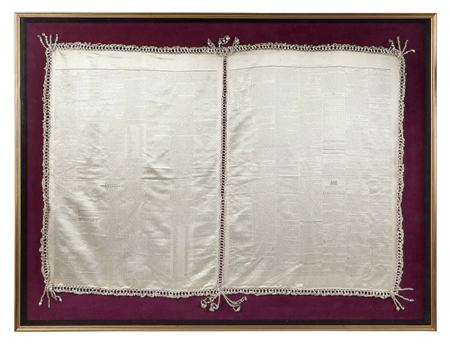 Apparently, to commemorate Her Majesty the Queen's to the Isle of Jersey, The Jersey Herald printed copies of the September 11, 1846 edition of the newspaper on silk panels, which were then stitched together with beaded pearls. Here's a detail shot: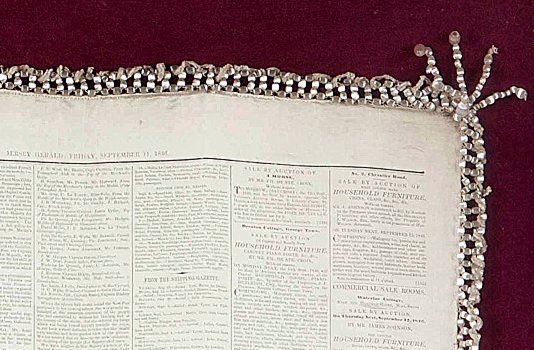 Did they only make the one copy? Is this the only printed silk newspaper facsimile out there? Can I find these in any boot sale of dead queen paraphernalia, or only Malcolm Forbes's?
UPDATE AFTER TEN MINUTES OF GOOGLING So printing newspapers on silk is/was a commemorative thing. The first copy of the first issue of the Grand Rapids Times was printed on silk in 1837 and presented to its largest subscriber/investor, while additional souvenir copies were printed on cloth. A silk copy of an 1852 edition of the San Francisco Daily Whig came across book conservator Nicole Wolfersberger's desk [and into her flickr stream] a couple of years ago. The Upper Hunter Courier made a silk presentation copy of their paper for Lord Belmore after he came to open a section of railway in Scone in 1871. It was not nearly as nice as Queen Victoria's.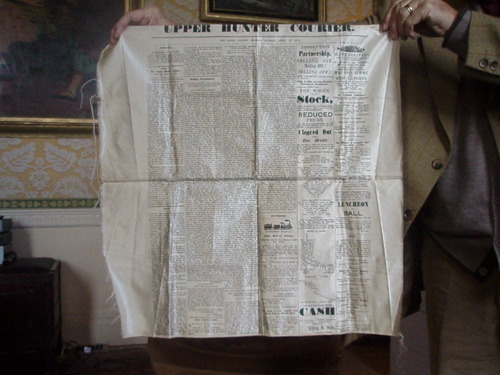 And in 2007, the Jiefang Daily Press Group gave the V&A a copy of the 2005 silk front page which was carried into orbit on China's second manned space flight.
The Forbes Collection at Old Battersea House – Sale 338 – Lot 415
TWO PRINTED COMMEMORATIVE SILK FACSIMILE NEWSPAPER SHEETS
Est. £500-800 [lyonandturnbull.com]
Previously: Rauschenberg Currents Event