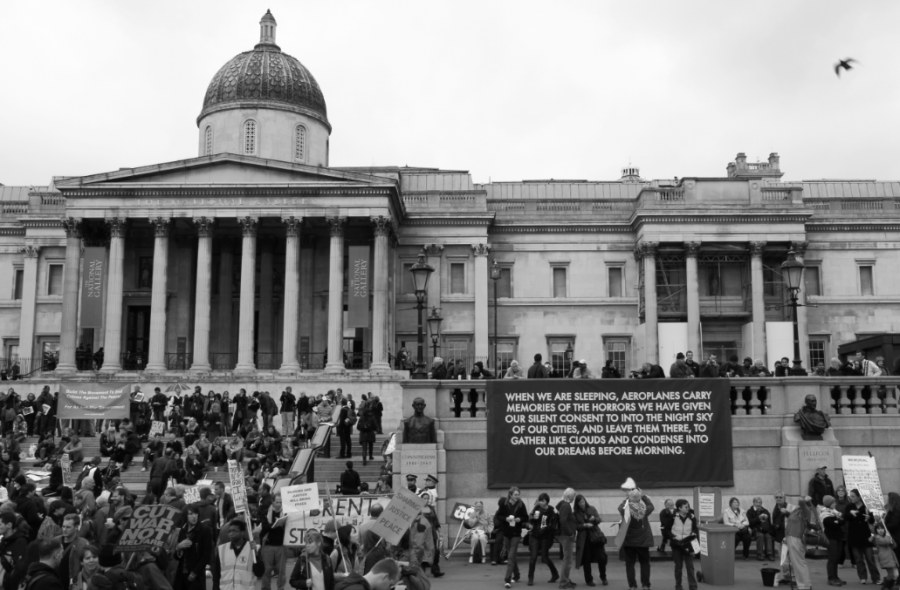 I've got a few reservations, but I'm really quite smitten with London-based Scottish artist Robert Montgomery's poetically critical billboard artworks.
The one above was unfurled at a Stop The War protest in Trafalgar Square last October. It reads:
WHEN WE ARE SLEEPING, AEROPLANES CARRY
MEMORIES OF THE HORRORS WE HAVE GIVEN
OUR SILENT CONSENT TO INTO THE NIGHT SKY
OF OUR CITIES, AND LEAVE THEM THERE, TO
GATHER LIKE CLOUDS AND CONDENSE INTO
OUR DREAMS BEFORE MORNING.
If the stark white-on-black text and the clouds and the protest didn't already remind me of Felix Gonzalez-Torres, this particular photo, which ran on Purple's blog, even has a bird in flight in the upper right corner.
Montgomery's standard M.O. is to paste his billboards guerrilla-style, without permission, on top of existing advertisements. But for
an exhibition last month at KK Outlet, the gallery got authorization to install a series of three billboards with something of an Occupy theme. [Occupy had been occupying nearby at Shoreditch, and the artist had a collaborative project planned, but, as he told the Independent, "they got turfed out on 25 January so that didn't happen."]


The deployment of poetry as protest takes its cue, Montgomery readily acknowledges, from the Situationists and Guy Debord, which, baby and bathwater and all, I will accept. My ambivalence, such as it is, really has more to do with Montgomery's apparent activism on the fashionista front, his day jobs at Dazed and Confused, his carousing with Olivier Zahm, even the galleries that tout their Occupy shows one month, and their design studios working for LVMH the next.
But who's to complain, seeing as how I followed the linkstream to his work while surfing for extraordinary calf leather shoes myself?
Let he who is without consumerist sin throw the first stone. Is being the global street fashion industrial complex's social conscience is any more damning than being the art world's anything?
Montgomery's disarming, enticing, depressing, enlightening poems are still there, still catching advertising-conditioned passersby, only to release them with an unsettling thought in their heads.
Givin' me 500 Errors right now, though: Robert Montgomery portfolio site [robertmontgomery.org]
It turned out this way cos you dreamed it this way [kkoutlet.com]
Robert Montgomery opening and installation shots via KK Outlet's flickr [flickr]
The artist vandalising advertising with poetry [independent.co.uk]