So I'm reading the Guggenheim's little exhibition catalogue for Barnett Newman's Stations of the Cross, which, as I noted, has been digitized by the museum in conjunction with the Internet Archive, and is thus available for instant and free viewing or download.


And then the little PDF constantly hangs up Preview, which is supposed to be like the most stable application in the entire OS, I thought, so what is up? And it's always at page 31. Which, when I can see it, about half the time, has a full-page illustration of Twelfth Station [right], with a giant divot taken out of the top. Which, after a flash of doubt, I confirm [left] is not how the painting actually looks.
[Heads up: Stations of the Cross is not on view right now; it was in the NGA's Tower Gallery, but the whole East Wing is being shut down for renovations, starting, apparently, with the gallery holding the greatest paintings.]
After repeatedly crashing, I thought, maybe I could print my way ouf of this problem, and so I printed the Internet Archive's file to a new PDF. And watched my 1.4mb file balloon to 282mb, which obviously takes its own sweet time to open to page 1.
As well as Page 31, which is now a glitch masterpiece, that obviously, I must now paint.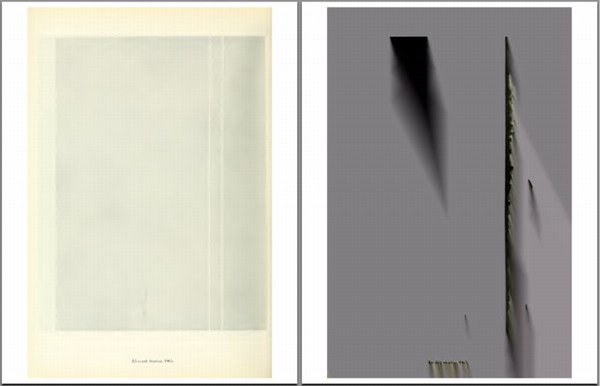 On the theory that monochromes somehow confound either scanners or compression algorithms, I checked the PDF for the Guggenheim's 1975 Brice Marden exhibition, but it appeared disappointingly glitch-free.