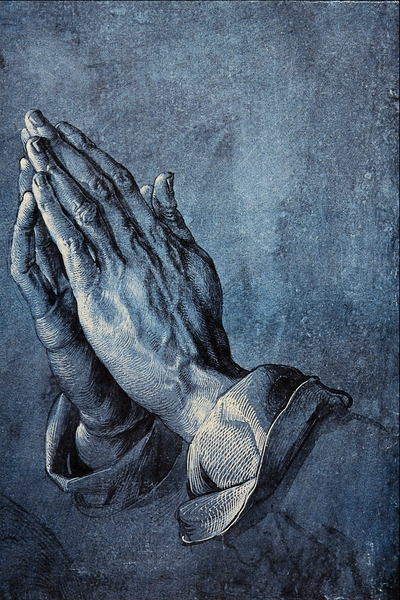 Albrecht Dürer, Praying Hands, 1508, pen and ink on prepared paper, Collection Albertina Museum
Went to see the Albrecht Dürer show at the National Gallery this morning, it was suitably fantastic. Though, perversely, I found myself taken by the seemingly least important elements of the works: the paper and the mounts. More on the mounts later, I hope.
When he painted in Venice Dürer used a new type of blue paper, carta azzurra, which was made from blue rags. But when he was home in Nuremberg, he approximated this support by "preparing" his paper. That's what all the descriptions say: "prepared paper."
From what I can tell, this means covering the entire sheet of paper with a blue/gray/green wash. I assume it's due to age and the chemical alteration of some of the pigments, but a few of his drawings on prepared paper look like they have a faint, pinkish underpainting, as if he built up the ground tone with translucent layers. Which would be even more surprising, I think.
Anyway, he seems to have adopted this approach for the preparatory drawings for the Heller altarpiece, including his beyond-iconic drawing above, Praying Hands.
I searched the exhibition catalogue in vain for a more detailed discussion of this paper preparation process, but here is the conclusion of the entry for Praying Hands:
Removed from their original context, the Praying Hands were misinterpreted by posterity. They were reproduced in vast numbers and in a multitude of form, extending from reverential appreciation all the way to kitschy objects, and they have become familiar in popular culture as an expression of sentimental piety. This could hardly have been Dürer's intention.
Though you can buy the NGA/Albertina's Albrecht Dürer exhibition catalogue at Amazon, out of consideration for the artist's intention, these The Great Piece of Turf eyeglass cases and scarves are available only in the museum shop.