When the worst thing to happen last week was still tax day, the folks at Blue Bottle Coffee wrote about rumors circulating in the larger SFMOMA art dessert community about the Richard Serra Cookie Incident. [404 link updated to archive.org, 5/2016]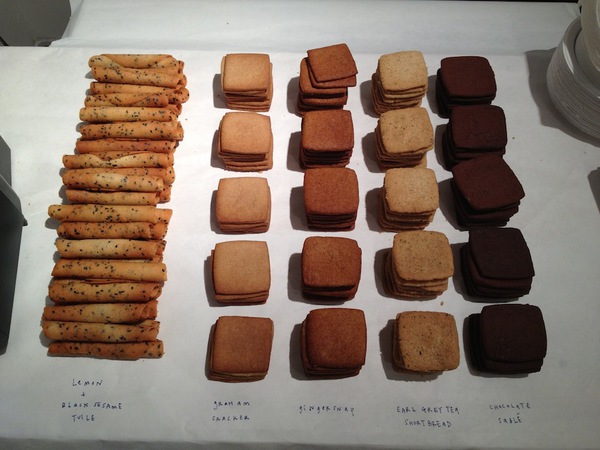 not-Serra cookie parts image by Charles Villyard
BBC is the outfit responsible for creating the desserts about art at SFMOMA. They have a new book about it. Modern Art Desserts. Available now. It does not include the recipe and assembly diagram, custom-printed on a napkin, for the 2010 cookie-based examination of Richard Serra's 1969 prop piece, Right Angle Plus One, which is in the Museum's collection.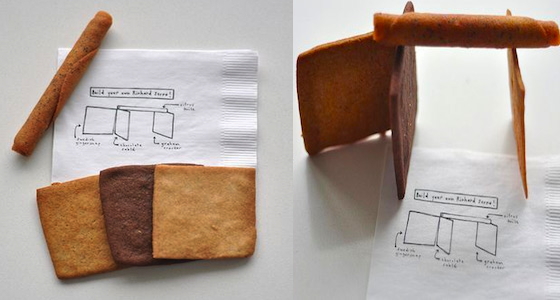 Serra, it turns out, was not amused by the cookie-based critique, as the pastry chefs found out when they met the artist during Gary Garrels' 2011 drawings retrospective. The best line is also a call to arms:
Going through his retrospective on a routine basis while it was up was such a treat for us. It was also heart-wrenching since EVERYTHING IN THE SHOW LOOKED LIKE A GIANT COOKIE!
Right Angle Plus One is related in time and form to four prop pieces and lead rolls currently on view at Richard Serra's show at David Zwirner.. It is now impossible to look at that show and not think of recreating it in cookies. Go ahead, just try it!


Setting The Serra Story Straight [bluebottlecoffee via wayne bremser]
Richard Serra Early Works, through June 15, 2013 [davidzwirner]