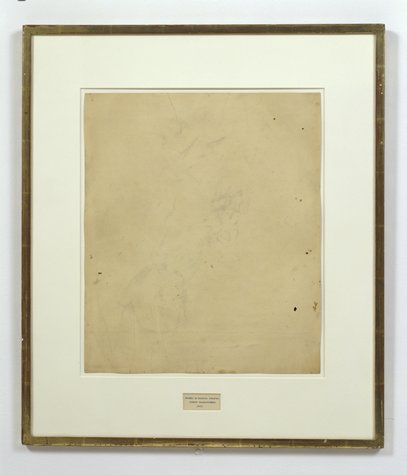 [See the note about Ghetto vs Shanzhai at the bottom of this post.]
I've explored and written quite a bit about Erased de Kooning Drawing by Robert Rauschenberg & Jasper Johns. And I started to wonder if anyone else had ever erased one, too. If so, who and when, and if not, why?
Was it really a gesture that only needed to–or only could be–done once? Yes, there's an audacity to Rauschenberg's gesture, but the work is also, rather definitively, not a destructive act. Rauschenberg correctly saw erasing as an affirmative markmaking technique, one that de Kooning himself used quite skillfully.
So why not do it again?
I think the obvious explanation is that one more erased de Kooning drawing in the world would mean one less de Kooning drawing in the world, and that's a seen as a problem. De Kooning's pre-eminent stature as an artist, combined with his being dead, the finite number of works by his hand, the urge to preserve them, the conservation imperative of not making any irreversible alterations to an artwork–and of course, the economic folly of it, it just don't add up.
On the other hand, it would offer an invaluable insight into Rauschenberg's own experience and process in erasing de Kooning. Remember how he said it took him a month and a whole bag of erasers or whatever? Now we could find out.
Because Christie's just posted an online-only auction of de Kooning works on paper collected over two decades by his longtime physician and friend Dr Henry Vogel. There are 33 works in the online Vogel sale, and some of them are nice, and even interesting. Let's also say that there are several works available whose artistic character, historic importance, and sales estimates completely upend the calculations that have prevented a restaging of Rauschenberg's act. They are highly erasable de Kooning drawings.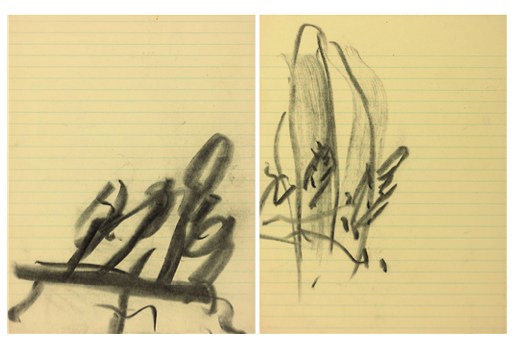 Lot 10, a diptych, is the first of nine drawings in what me might call de Kooning's Notepad Series, which juxtapose his expressive markmaking with the rigorous geometry of lined paper:
He drew on everything from bags to grocery receipts, but it was paper–smooth, permanent and hard–that he favored most. Any kind of paper could suffice, even the torn out pages of a notebook, like with these two pieces.
The current bid is $2,600, with an estimate of $4-6,000. [update: sold for $3,250]


Christies' specialist hints at the mysteries locked into Lot 11, above:
De Kooning often used the female figure as a starting point to explore abstraction, obsessively and tentatively probing the boundaries between the two forms. In drawings like this, only the faintist hint of the female form emerges–and even that is open to interpretation.
The starting bid will be $1,000 against an estimate of $2-3,000. [update: sold for $2,750]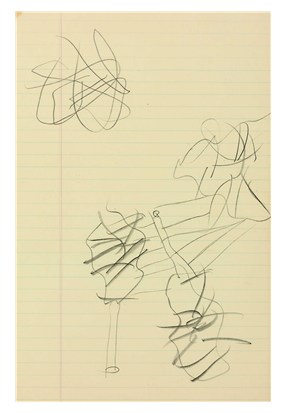 But the most promising candidate for erasure may be Lot 12 (starting bid, $1,500, est. $3-5,000, [update: sold for $1,875], which not only features images that de Kooning himself crossed out–a double negation!–but which has not only been seen, but commented upon by John Elderfield himself:
"There's one of these yellow pad sheets where he seems to have drawn a lot of forms and crossed them out," said John Elderfield, a [sic] former curator at MoMA, describing this piece. "And it's hard to quite know what he's up to. […] But with de Kooning, there always is something."
Just like a palimpsest, there always is something.
Which highlights another major difference between Rauschenberg's Erased de Kooning Drawing and this, for lack of a better term, Ghetto Erased de Kooning Drawing: you could buy it. Rauschenberg held onto his for decades, until he sold it with a group of foundational, early work, to SFMOMA. But if having an authentic, erased de Kooning drawing of your very own is something you've always drramed of, well, the auction ends June 19th. Drop me a line. We'll make it happen.
Willem de Kooning Works on Paper from the Estate of Dr. Henry Vogel, online auction ends June 19 [christies.com]
[NOTE: Though the use was more common at the time, I grew uncomfortable with the racist origins and implications of the colloquial use of "ghetto" for these works. I changed it to "shanzhai," a Cantonese term which originally described unabashed counterfeit consumer goods; this usage has since shifted toward a hackier, scrappy innovation, but for these works, the original meaning pertains. I have kept the original uses of ghetto rather than delete them to acknowledge the blinkered social context I was also complicit in.]