So this is it, the end of the East Coast/West Coast, dealer/museum director rivalry going on within Jeffrey Deitch himself.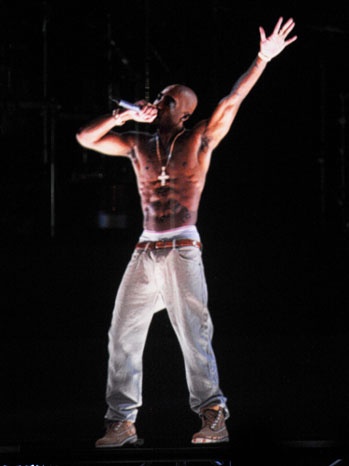 And yet the illest news comes from way back in April 2012, the height [or nadir] of Deitch's drive-by MOCA leadership. How did I miss these things? In his incisive post-mortem, William Poundstone notes that Jeffrey and his guest curator-in-marketing Mike D had wanted to include Tupac Hologram in their Mercedes-Benz Avant/Garde Diaries show, "Transmission LA: A/V Club" but that they "couldn't swing the loan."
Which, what??
Sure enough, in an interview with Isabel Wilkinson published on Apr. 20, 2012 in the Daily Beast [which might explain why I didn't see it], Mike D said, "We wanted to see if we could bring the Tupac hologram here, but it has to be at Coachella again next weekend."
Yes, well, I guess it was just one of those last minute things. Tupac Hologram appeared at Coachella on Sunday, April 15, and Transmission LA: A/V Club opened on April 20th. And the Beastie Boys only had pull with Doctor Dré the Hot 97 DJ, who had previously been a DJ for their performances, not Dr. Dre the rapper/producer who orchestrated the entire digital reincarnation project for Coachella in the first place.
And maybe it would have been odd for Tupac to participate, even posthumously–especially posthumously–in a Mercedes promotional event, seeing as how he was gunned down in the passenger seat of a BMW 7-Series. Gotta say I'm with Team Dre on this one.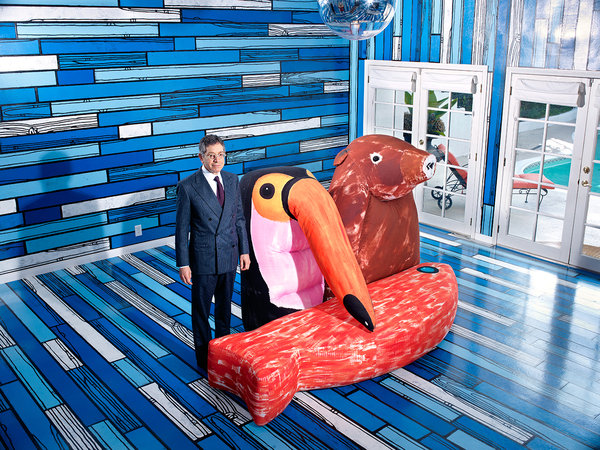 And another PR piece timed to the opening of the Mercedes show, the April 22 NYT Magazine tour of "Jeffrey Deitch's Party House". Which leads with this brilliant photo by Jeff Minton of JD posing as just another wacky element of his Gaetano Pesce Gli amici sofa. I didn't realize it at the time, but when Stacey Allan tweeted this picture this morning, I knew what we needed all along was some Yo Gabba Gabba!-style action figures. Maybe it's not too late for one more indie vinyl toy exhibit before he blows town? Deitch & Friends! Collect'em all!