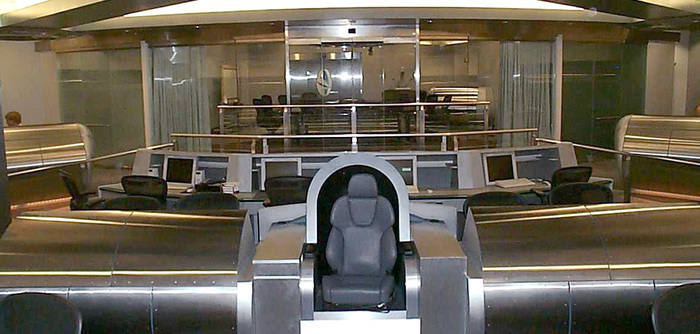 In an extensive profile of the NSA Director, Foreign Policy reports that when Lt. Gen. Keith Alexander was head of Army Intelligence, he built out his "Information Dominance Center" to look like the bridge of the Starship Enterprise:
It had been designed by a Hollywood set designer…complete with chrome panels, computer stations, a huge TV monitor on the forward wall, and doors that made a 'whoosh' sound when they slid open and closed. Lawmakers and other important officials took turns sitting in a leather 'captain's chair' in the center of the room and watched as Alexander, a lover of science-fiction movies, showed off his data tools on the big screen.
"Everybody wanted to sit in the chair at least once to pretend he was Jean-Luc Picard," says a retired officer in charge of VIP visits.
Indeed. And here, I believe, it is.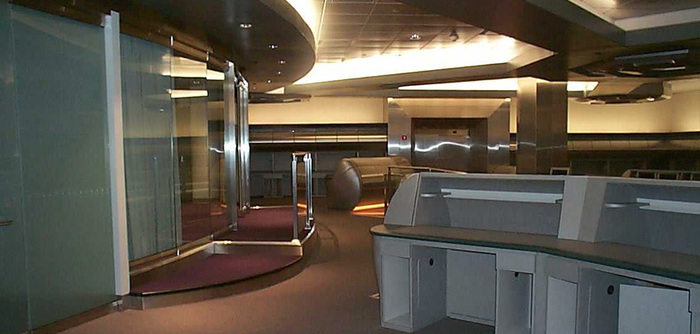 The Information Dominance Center at Fort Belvoir, VA is featured in the portfolio of DBI Architects, a leading DC commercial architecture firm. The firm has done buildouts for absolutely everyone, but in the 1980s, they created a "Stealth Design" practice, focusing on computer rooms and "technology-oriented spaces, including network operation centers, switch sites, data centers, advanced concept laboratories, and video teleconferencing centers."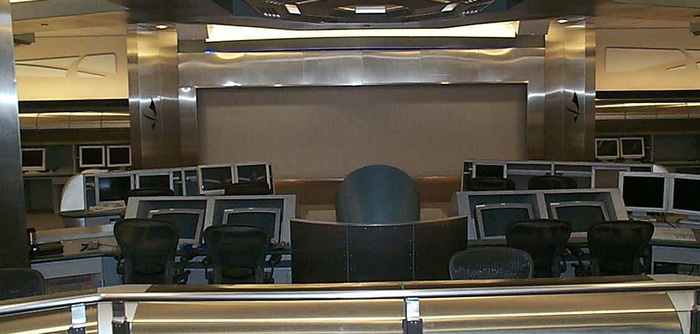 With several top-level command centers under their belt, DBI turns out to be one of the go-to architects for the post-9/11 Intelligence Industrial Complex. Their regional clients include Geo-Eye, the satellite imaging company which powers Google Maps; Lockheed Martin, for whom they build a 50,000-sf control center; various Army intelligence divisions; and even the White House itself. DBI remodeled the WH Situation Room in 2007. They also built the grand, cinematic nerve center of the Department of Homeland Security's National Counter-Terrorism Center, which was in an undisclosed suburban office park location until George Bush used it as a press corps backdrop in 2006.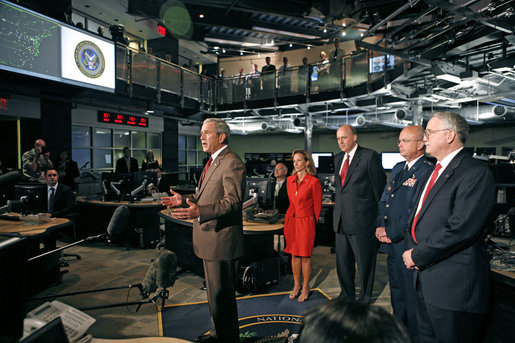 The DBI look is part NASA, part Dr. Strangelove, to NORAD to War Games and on and on, back and forth. The big screened control center is part of the security theatrical tradition now. And in an era of Federation-inspired flip phones and iPads, where the fictional CIA of 24 enabled and rationalized torture at the actual CIA's hands, we probably shouldn't be surprised that politicians–of all people–are susceptible to intelligence industry set pieces that look and feel just like a movie.
Previously: But He'll– He'll See The Big Board!