I'm as stoked as I am nonplussed at Louis Vuitton's over-luxed realization of Charlotte Perriand's une petite maison au bord de l'eau (1934), which was unveiled at the Raleigh Hotel during Design Miami last month. It's a small U-shaped shed with glass opening around a canvas-shaded deck.
As LV's publicists explain it in designboom [small caps sic]:
the pavilion was originally conceived by perriand for an architecture competition sponsored by l'architecture d'aujourd'hui magazine – for which it won second place. she brilliantly prefigures the ease of construction and assembly, and affordability. the pavilion was built (and furnished) by louis vuitton's inhouse architectural team in collaboration with perriand's estate to adapt her loose sketches. the design probably would have slipped unnoticed into 20th-century architectural history where it not for julie de libran, the woman's creative director at louis vuitton.
Mhmm. Except that Perriand's project is mentioned and reproduced in numerous catalogues and exhibitions of the architect/designer's work both before her death in 1999, and especially after.
And as for rescuing and realizing Perriand's history and design, the Perriand archive hasn't released more than a sketch, and no information about the competition, which was specifically for a weekend beach house, and no information about the variations of the design Perriand made over the years.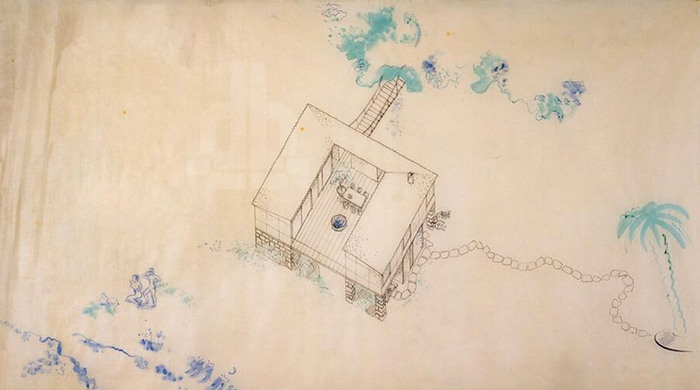 And in realizing the house, Vuitton doesn't say that they changed it significantly: Perriand's original concept was for a living space raised on stone columns and walls, with open space underneath for storage and parking. So in structure, material, and affordability, Vuitton's sleek, hardwood construction is beautiful, but it is not an accurate representation of Perriand's concept. When a luxury giant like LVMH comes calling, though, the estate [run by Perriand's daughter] can be flexible. And when design shoppers hit Miami Beach, the right logo can obviate any concern about notions of history, accuracy, or context. The Perriand pavilion [sic] was for sale; it's not clear if it sold.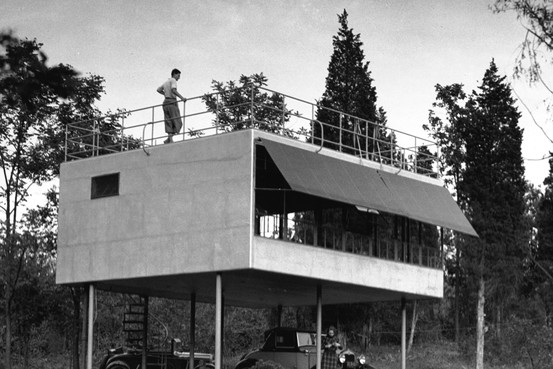 But the entire project demands an open reinterpretation that tries to be true to Perriand's original design–or at least to the aspects of it that don't appeal to a fashion marketing priorities of a luxury purse manufacturer. Imagine an ultralight version built on pilotis, and realized in, say, sealed canvas, like the beach cottage Albert Frey & Lawrence Kocher built in Northport, LI in 1933-4?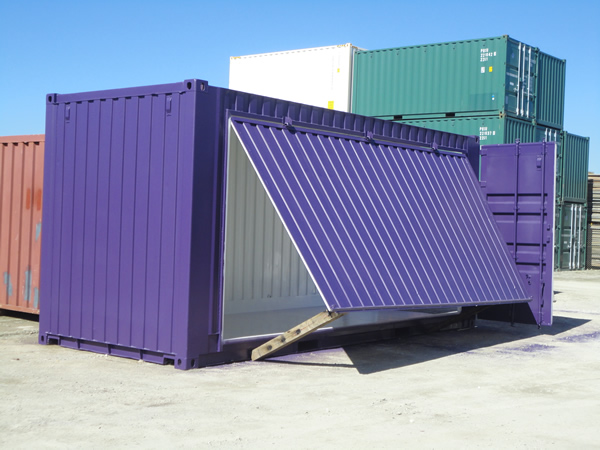 image: abc containers (au)
Or bring it all forward. Who can look at the Vuitton Perriand House and not think of shipping containers? Two 40's open on the side, and a 20′ in the middle, BAM.
charlotte perriand's la maison au bord de l'eau is a louis vuitton tribute [designboom]
Louis Vuitton realises unbuilt Charlotte Perriand beach house in Miami [dezeen]