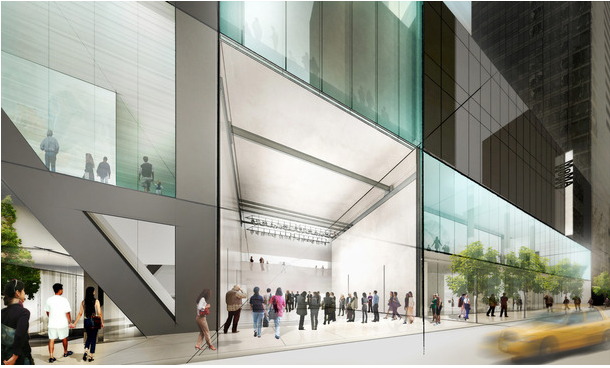 Big news, negative reactions, but very few surprises. MoMA announced today that the American Folk Art Museum building would be demolished after all, as part of an expansion & reconfiguration project connecting the current Taniguchi building to galleries in the base of the Jean Nouvel tower set to rise to the west. No one could honestly have believed that Diller Scofidio + Renfro had been brought into the controversial situation to do anything other than provide expert architectural cover for a decision that had been made long, long before.
DS+R also brought some necessary conversation changers, architectural features that would allow The Modern to proceed in a constructive, rather than a purely destructive context. Everyone and their dog has weighed in tonight on the few renderings of MoMA's plans, so I'll skip most of that. Except to say that Diller's proposal for the AFAM site, an entry/gallery open to the street, and a performance space on top, neatly renders the volume of the demolished building in the negative. It's like a ghost space of the structure that was once there. That design solution has a certain morbid integrity.
And I will note what others haven't, that one of the changes DS+R have proposed is not just "an architecturally significant staircase," as Jerry Saltz dismissively called it, but an extension to an architecturally significant staircase: the Museum is planning to continue the iconic Bauhaus Staircase, which connects the 2nd and 3rd floor galleries, all the way down to the Titus 1 and 2 movie theaters. As a longtime member of the Film Department's Trustees Committee, I suppose I should know more about how this will impact the presence and experience of film at the Museum. I'll look into it.
[Probably a disclosure, or at least a heads up: I was co-chair of the Modern's Junior Associates for many years, and helped raise money for the 2004 capital campaign. My own association with the Museum has been long and deep and deeply rewarding, even though I've never had the resources to donate trajectory-changing amounts of money. I'm glad for the relationships and engagement with folks all through the Museum, and I won't pretend that I have any juice, or inside knowledge of the Museum's capital and construction plans.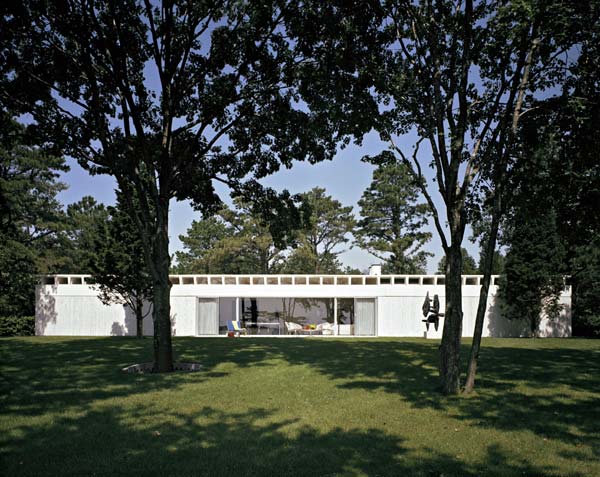 Travertine House, 1963, Gordon Bunshaft, image: Ezra Stoller/ESTO via archnewsnow
I have purposely steered clear of the Folk Art Museum issue over the last couple of years, in part because I remember some impassioned discussions over the Museum's sale of Gordon Bunshaft's modernist house in East Hampton around the time Martha Stewart gutted it and flipped it to Donald Maharam. The Museum makes a clear distinction about what enters the collection, and the curatorial process by which it happens. In this regard, Bunshaft's house, which was willed to the Museum by the architect, had the same status as the Folk Art Museum: it was an asset, not a part of the collection. And it was dealt with as an asset. Maybe someone should ask Barry Bergdoll if there was ever any discussion in the Architecture&Design Department of accessioning the Williams+Tsien building. I'm going to guess that there wasn't. It's an exceptional case that throws the collection out of scale. Anyway, this reality is exactly at the root of much of the disagreement with MoMA's decision, but I believe it was internally consistent. Whatever that means for the state of the city and the urban experience of the Museum, of course, remains wide open to criticism. And now this parenthetical has veered back on topic.]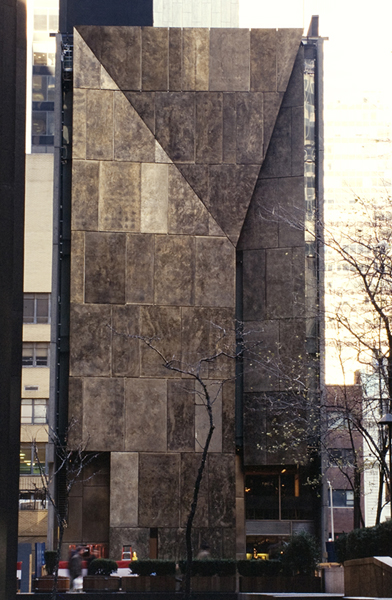 AFAM images: Paul Mauss/ESTO, 2001, via architectmagazine
MoMA's gonna do what MoMA's gonna do, but what can be done about Williams & Tsien's Folk Art Museum Building? It's worthy architecture, and I think it can be saved, and it should be saved. The Folk Art Museum Building could be moved. And given MoMA's centrality in this carefully crafted building's destruction, I think MoMA should open itself to the possibility of facilitating the rescue.
When I say it should be moved, I obviously don't mean entirely intact, as-is. But it could and should be dismantled, and Williams & Tsien could be enlisted to rebuild it somewhere else in town. And it should be reborn as a townhouse. Why shouldn't it be the most spectacular new townhouse in town? I just read a ridiculous article in the American Express magazine about the race for the $100 million penthouse. What roving billionaire shopping Jean Nouvel's MoMA Tower penthouses wouldn't want an award-winning "bespoke" house museum instead?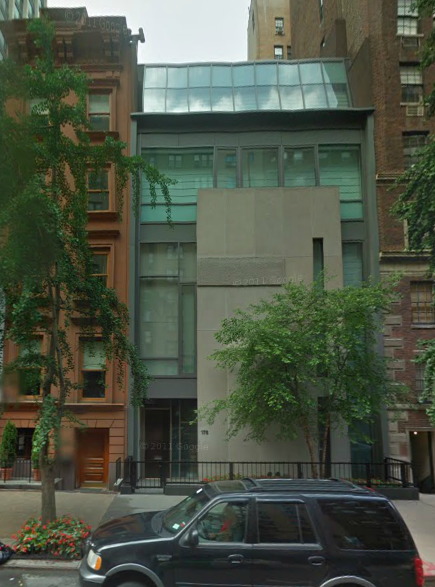 GSV, obv
Not coincidentally, the model for such a project would be the extra wide townhouse [above] Williams & Tsien built in 1996 on the Upper East Side for none other than Jerry Speyer, the collector/developer who is currently MoMA's Chairman.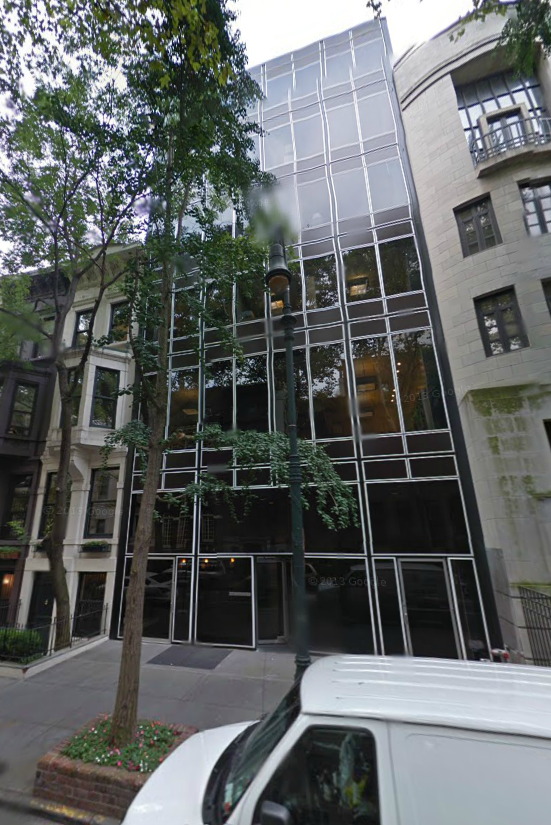 GSV, obv
Speyer's house is 33 feet wide; the Folk Art Museum building is 40 feet wide, 85 feet tall, and 100 feet deep. Those dimensions may not work in most traditional side street townhouse environment, but it's not impossible. There was a foundation building designed by Philip Johnson [above] on my block of East 64th Street that's almost the same volume. And there have to be sites across the city that could accommodate it. It might even fit in better than it did in the cramped shadows of West 53rd Street.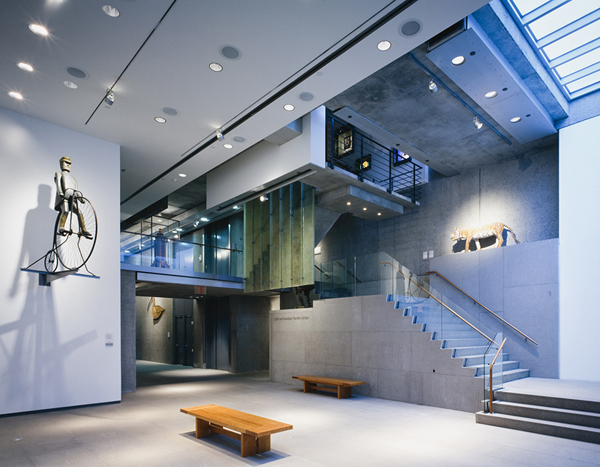 again, Peter Mauss/ESTO via architectmagazine
So given that the building will come down soon, the thing to do is to salvage and stockpile as much of the structure as feasible. This would begin with the cast bronze alloy facade, whose 63 panels could be saved as easily as the could be sold for scrap. Then there are key handcrafted elements and materials in the building that gave it its character: cherry railings, custom fixtures, the molded glass curtain, flooring, etc., that should not simply be scrapped in any event. I mean, there's a Georgian bank facade in the American Wing of the Met, and in 1992 Stefan Knapp [who?]'s op arty sculptures were peeled off the facade of Alexander's department store and sent into the design market without blinking.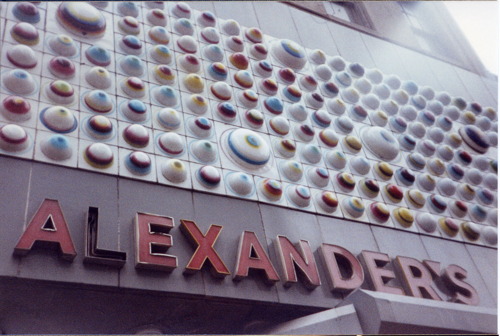 Stefan Knapp facade for Alexander's, via cityofdave's flickr stream
The other essential elements of the building–cast concrete walls, stairs, balconies, skylights, the space itself–aren't portable, but they are recreateable. Or adaptable. The AFAM was actually a helluva piece of craftsmanship and a cramped museum. People called it a "jewelbox." Billie Tsien called it "a house for art, not a museum." Which, well, we see how that turned out.
Now maybe the architects get a second chance to configure a successful spatial experience inside their stylish envelope. I imagine that whoever wanted to build or buy such a place would probably collect. So with some reprogramming and rebalancing, it could once again become a house for art. MoMA would only need to let the deconstruction happen.