Here is a Robert Gober story I have not heard before:
Already enamored of art, but largely ignorant of it, Gober was thunderstruck by a visit, at the age of eleven, to the Yale Art Gallery, in New Haven. A spare abstract painting by Ellsworth Kelly so baffled and intrigued him that he remade it in his family's basement.
Obviously, now, for the moment, even more than to wanting to make Kellys myself, I want to see the Kelly Gober made.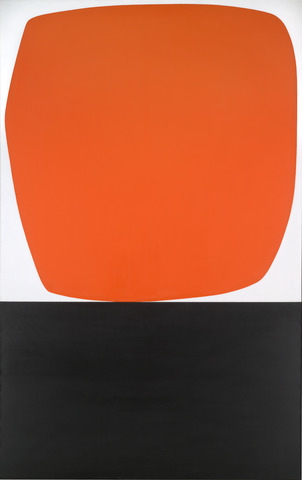 Ellsworth Kelly, Charter, 1959, collection: artgallery.yale.edu

But I can't immediately find the exhibition history for the Yale University Art Gallery for the general time of Gober's visit, 1965-6. Yale got its first Kelly in 1966, though, a large (95×60 in.) painting from 1959 called Charter. It was a gift, but it's not clear if it was shown in 1966. From newspaper announcements, Yale's practice seems to have been to show selected acquisitions from the previous year in Jan-Feb.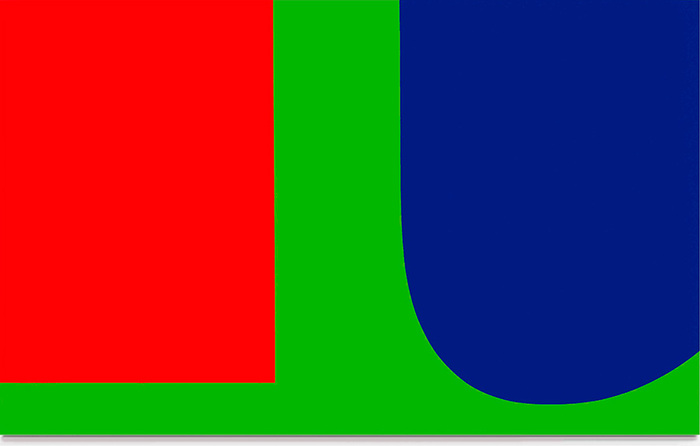 Ellsworth Kelly, Red Blue Green, 1963, collection mcasd.org

Maybe I was also interested because Gober's recollection reminded me of some influential childhood experiences of Kelly himself, which I'd read last year, in a talk given by Yve-Alain Bois:
On Halloween night in 1935, in rural Oradell, New Jersey, the twelve-year-old Ellsworth Kelly was trick-or-treating with friends in their neighborhood after dark. Upon approaching a house from a distance, he said: "I saw three colored shapes–red, black, and blue–in a ground-floor window. It confused me and I thought: 'What is that?' When I got close to the window, it was too high to look in easily and I didn't want to be peeking. I was very curious and came at the window obliquely, and chinned myself up, only to look into a normal furnished living room. When I backed off to a distance, there it was again. I now realize that this was probably my first abstract vision–something like the three shapes in your Red Blue Green painting."
The "your" in this story is Hugh Davies, director of the Museum of Contemporary Art of San Diego. But The Broad also has one which looks like an inverted, zoomed out variation of the MCASD's.

Which is fine. Bois' talk is about Kelly's extraordinary ability to draw upon forms and perceptions from his life and to transfer them to his work. This was one of five possible strategies Kelly had developed in seeking an alternative for composition, a way to "invent how not to invent."

Maybe Gober's sculptural verisimilitude operates in a similar way. I don't know, and I have only just begun thinking about it. But it's interesting to think about these two artists, who each see childhood experience with abstraction as formative to the development of their work.

Found Meanings, Peter Schjeldahl [newyorker.com]
Ellsworth Kelly's Dream of Impersonality, by Yve-Alain Bois [ias.edu]