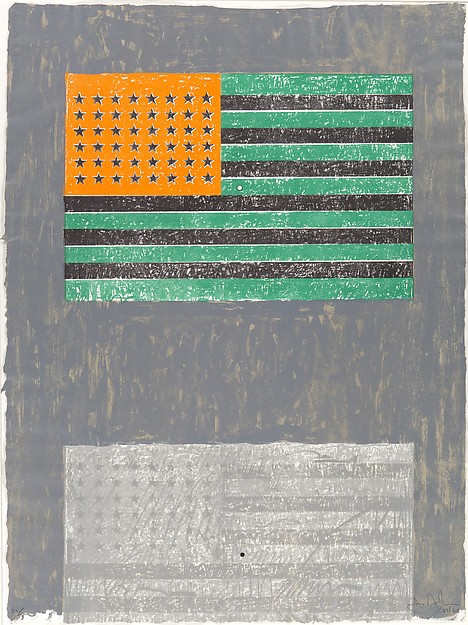 Flags, 1968, image metmuseum.org
In 1968 Jasper Johns produced an edition, Flags, with ULAE featuring two American flags and an optical phenomenon. After staring at the inverted spectrum flag, green, black and orange, on the top, a viewer would then switch to the bottom flag, which would momentarily appear red, white and blue.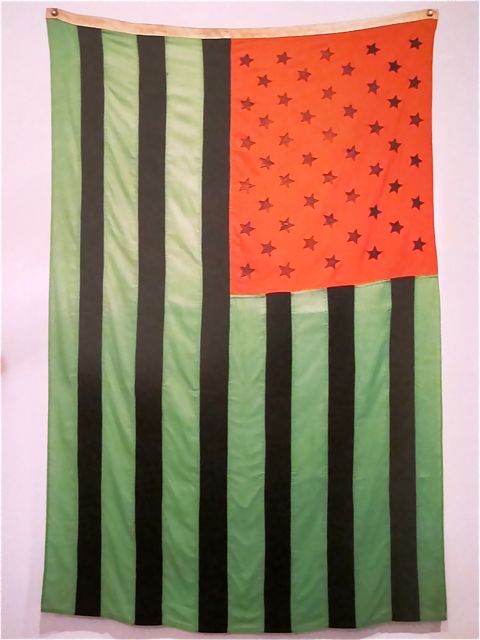 American Flag in Negative Colors of the Spectrum, 1968, image: juddfoundation.org
This was more than a visual trick. It carried symbolic and political meaning. Or at least such things could be ascribed to an inverted flag. In 1968 Donald Judd had American Flag in Negative Colors of the Spectrum made. It was included in "The Public Life," a 2011 show at the Judd Foundation about the artist's civic and political engagement. I have not been able to find out much background for this object or its creation.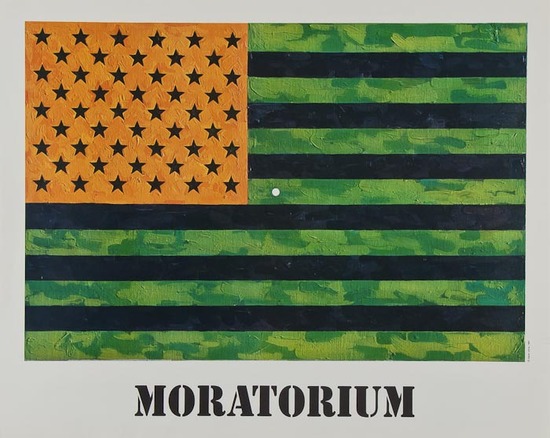 Flag (Moratorium), 1969
In 1969, Johns again used the inverted flag, for Flag (Moratorium), a fundraising/protest poster for the Committee Against The War In Vietnam. The small white focal point in the center facilitates the same optical phenomenon as the ULAE edition, in which the viewer is called to action to envision, produce, and correct the flag in her own mind.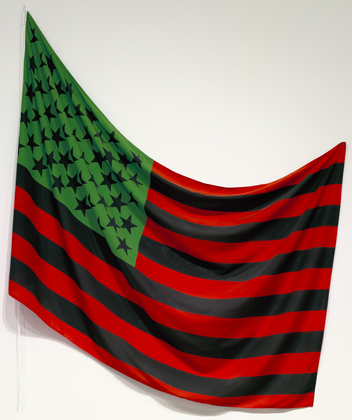 African American Flag, 1990, image: moma.org
David Hammons' 1990 African American Flag is different. It's red, black and green colors derive from the Pan-African or Black Liberation Flag designed by Marcus Garvey in the 1920s. Miami collector Craig Robins has a Hammons flag; Rirkrit installed it for Design Miami Basel in 2011. It is also in MoMA's collection, and one flies over the Studio Museum in Harlem.