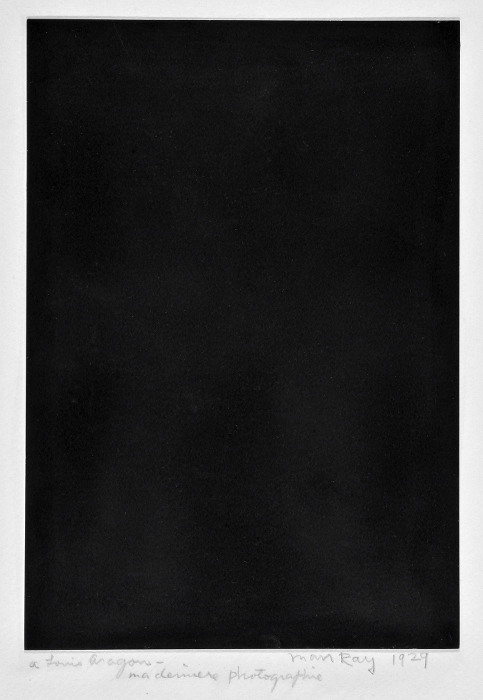 I'm always a sucker for a monochrome, and this imposing Man Ray photo posted at grupa ok a little while ago is no exception. Their title for it is Ma Dernière Photographe, which gives it some added gravitas. Even though it is tiny, 20×13.7cm, (8×5.5 inches).
But the date is 1929, and Man Ray definitely kept on working after that. So if he once thought it was his last photo, it wasn't. Maybe it was just his latest at the time.
When she showed it at Basel and in a monotone group show last fall, though, the Paris dealer Natalie Seroussi listed the title as ma dernière photographie, which syncs with the inscription. It turns out to be similar to a title Man Ray gave to another 1929 photo, both Rayographs, actually, which sold at Sotheby's in 2009. According to Man Ray scholar Steven Manford, that image was published in 1938 with the caption, "La Dernière Photo de Man Ray."
Rayographs, or photograms, are unique camera-less prints, where objects placed on photosensitive paper appear in negative. Except in this case, where Man Ray put nothing on it. So it's either a picture of nothing, or, more accurately, of everything.