UPDATE: OK, I decided the images are the priority, and getting them out there, so they're all relisted and ready to go, including exciting groups of ducks, frogs, fruit, monochromes, and office cube minimalism.
Looks like I picked the wrong week to get high-handed about arbitrary-seeming market-related rule-driven art practices. After almost six weeks and nearly 100 prints shipped, eBay suddenly dropped the hammer on my Test Listings series. 35 listings were canceled without warning tonight, and I spent an hour bouncing around eBay's call center to find someone who could explain what happened, and how to fix it.



Apparently the main problem boils down to having actual items to sell in the test listings category, which is for testing only. But the content from test listings (image and title and description texts) apparently triggers an automatic rejection if you try to list in a mainstream category like art > photographs. Calling something a "test," or using the word "test" in your title is enough to keep a listing off the site. But that's eBay's tautological problem. They also actually ban listings "where the value is placed on an intangible factor," like, no joke, "someone's 'soul'".
I had a couple of confounding discussions with CSRs about appropriation, context, and an awareness of the process of selling. I was asked how I could possibly claim I was actually selling an object, and that I wanted someone to buy it, when my descriptions clearly said "NO ITEM" and "DO NOT BID OR BUY." And how could I think it's not confusing that I put, "Actually, there is an item, and you can buy it." right underneath it?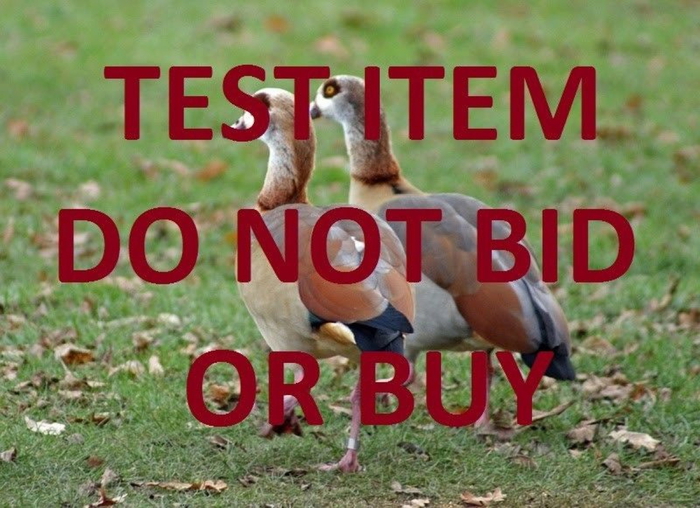 And who would even try to sell an image that had DO NOT BID OR BUY printed right across the middle of it?
"Is this your image?"
"It is now."
"Then you can change it so it doesn't say that, right?"
"Does eBay have any other instructions for how I should change these artworks?"
Was a real conversation I had with one Resolution Manager, after he'd already told me to change the title of the works, too.
It was a challenge to explain the project in this situation, to someone who had no interest or expertise in the art context, and whose job was to maintain the integrity of eBay's transactional experience. Even though I had been instructed by an eBay CSR to list my items in the testing category, I was clearly selling, not testing. And the way I was selling would disrupt the expectations of someone shopping in a normal part of the site. Which, of course, was my entire point. Which he accepted and rejected at the same time.
Maybe I'm the one who needs to pay attention to the context. eBay is full of art ridiculousness, more or less interesting, and apparently, I'm just wanting to add one more.
Matt Latourette reminded me of the 2014 4chan stunt listings to sell posts, then screenshots of posts, then making-of screenshots of posts, &c. which culminated/dissipated into Hyperallergic selling a blog post about the whole thing.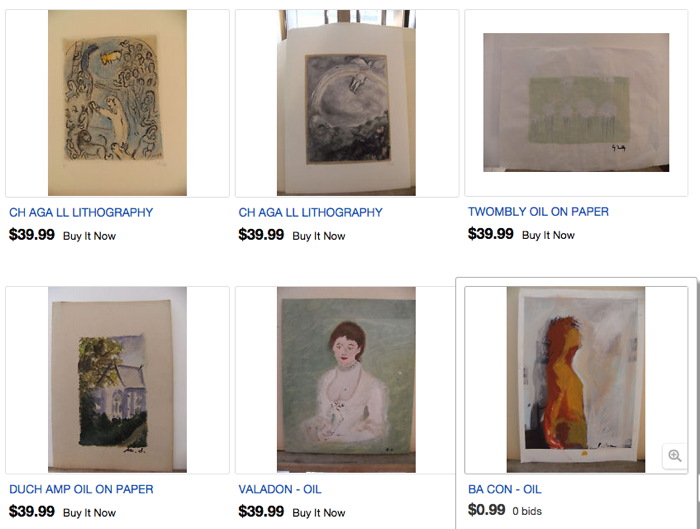 And @yunginstitution linked to this kind of thing, where an Italian creator of unabashed fakes hopes that kerning and an amazing incantation of a copyright disclaimer will keep the reaperbots at bay:
The work is not supplied with certificate of authenticity and warranties (as has never been evaluated, estimating expertise) and then, having regard to the recognition and similarity to the style of the author, is proposed as a copy of copyright, false copyright, in the manner of the author, under Article 8 of the law of 20 November 1971, n.1062 (Official Gazette No 318 of December 17) (according to law "dl 41 22/01/2004 art 179)
"a copy of copyright, false copyright, in the manner of, full of grace…"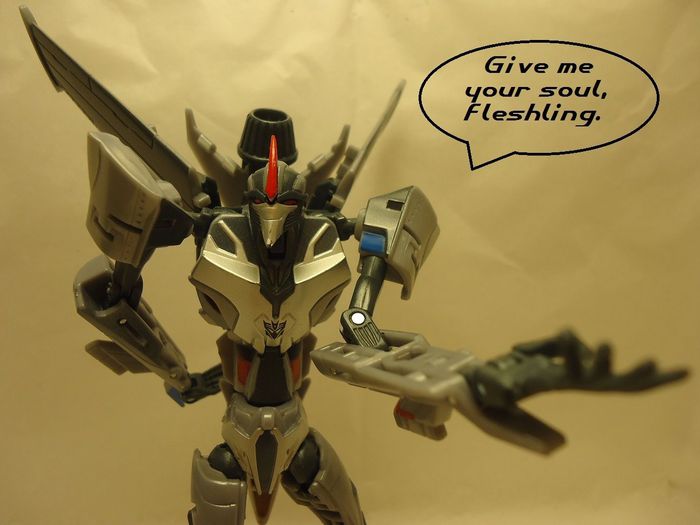 I guess my interest is primarily not in becoming an eBay crank, nor in reverse engineering the site's unwritten policies and assumptions about selling. But I am still fascinated by the images and language of not-selling, and the aesthetic decisions being made in these unimaginably rare situations where marketing, promotion, strategy and enticement aren't just absent, but avoided. And the implications of this for art are still worth considering even after Armory Week.
I'll revise this tomorrow, but, in the mean time, I have published a list of all the items eBay terminated, with their titles and (now defunct) item numbers. This will serve as a Googleable registry/reference for these works as I try to figure out whether and how to relist them. And then I'll think about what to do with the prints for the two dozen new test listings arriving this weekend.
UPDATE You know what, enough nonsense, the images are what interest me, so I'm stripping out all the text and title stuff and just relisting all available prints. They'll all be properly titled when they're shipped out, according to the registry below. Bid and buy with confidence.

Here are the listings that were removed:
141609520394 – Untitled (Test Test Test Item 2 –DO NOT BUY, NO ITEM FOR SALE)
141609520705 – Untitled (Test Test Test Item 3 –DO NOT BUY, NO ITEM FOR SALE)
141609520913 – Untitled (Test Test Test Item 18 –DO NOT BUY, NO ITEM FOR SALE)
141609521317 – Untitled (Test Test Test Item 10 –DO NOT BUY, NO ITEM FOR SALE)
141609521545 – Untitled (Test Test Test Item 16 –DO NOT BUY, NO ITEM FOR SALE)
141609521775 – Untitled (Test Test Test Item 11 –DO NOT BUY, NO ITEM FOR SALE)
141609522316 – Untitled (Test Test Test Item 1 –DO NOT BUY, NO ITEM FOR SALE)
141609522673 – Untitled (Test Test Test Item 10 –DO NOT BUY, NO ITEM FOR SALE)
141615053579 – Untitled (test listing please do not buy 212)
141615053820 – Untitled (Test Auction Do Not Bid On This Particular Listing)
141615054158 – Untitled (ANDR Test – Do Not Bid or Buy – KB MSKU BIN BO 1)
141615055117 – Untitled (ANDR Test Auction DO NOT BID OR BUY – SME JSS Related Core)
141620063933 – Untitled (IEAPP AM TEST ITEM Mbin Bo Imm DO NOT BUY)
141629537916 – Untitled (ANDR Test Auction – DO NOT BID OR BUY – Ship DSCT 2)
141629537918 – Untitled (ANDR TEST BEX DO NOT BID OR BUY MBIN BO)
141629537921 – Untitled (ANDR TEST – JERBEAR – DO NOT BID OR BUY – MBIN COMMIT)
141629537922 – Untitled (ANDR Test Auction – DO NOT BID OR BUY – BOffer Expire)
141629537925 – Untitled (ANDR GU test DO NOT BID OR BUY MultiBIN MultiSku diff pix)
141632476450 – Untitled (Test ITEM DO NOT BUY OR BID – will not ship)
141635626122 – Untitled (Test mobile do not bid 2 klm)
141635628538 – Untitled (ANDR Test Auction DO NOT BID OR buy – 1bin gtc)
141636745656 – Untitled (ANDR TEST DO NOT BUY MULTIBIN FLAT SH WW GBH YES CLM)
141636826878 – Untitled (TEST LISTING FOR EVER)
141636826954 – Untitled (ANDR TEST RU DO NOT BID OR BUY – TEST ONLY BH)
141636980739 – Untitled (E2E ANDR TEST – DO NOT BID OR BUY – TEST AUC 1)
141637258349 – Untitled (Test Item Do Not Buy free postage)
141637688953 – Untitled (US ANDR TEST – DO NOT BID – TEST MBIN FREIGHT SH WW – -DO NOT BUY)
141637786148 – Untitled (ANDR Test Auction DO NOT BID OR BUY – SME JSS Related 2)
141637801740 – Untitled (do not buy this. shipping.)
141639128741 – Untitled (Us andr test do not bid do not buy carrier rr 1)
141639128970 – Untitled (test auction do not bid)
141639129022 – Untitled (ANDR Test – Do Not Bid or Buy – KB MSKU BIN BO 1)
141639528275 – Untitled (Basic White template test)
141639569790 – Untitled (Test item do not bid)
UPDATE — Additional listings
141624129288 – Untitled (Andr test auction do not bid do not buy carrier 2)
141607382612 – Untitled (US ANDR TEST – DO NOT BID – TEST BIN CALC SH DOM – DO NOT BUY)
141607851161 – Untitled (padebay tw test item 341 Do Not Bid Or Buy)
141597026825 – Untitled (ANDR Test Auction – DO NOT BID OR BUY – BOffer Expire)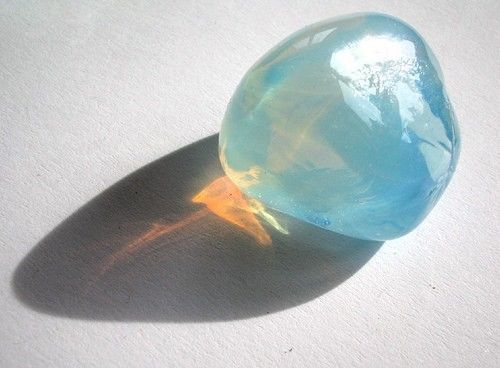 141597122958 – Untitled (ANDR Test Auction – DO NOT BID OR BUY – Ship DSCT) [above]
141597024595 – Untitled (ANDR GU test DO NOT BID OR BUY MultiBIN MultiSku diff pix)
141641278879 – Untitled (ANDR TEST ITEM – DO NOT BID OR BUY – SPEED TEST DO NOT TOUCH BH001)
Item picture
141641280515 – Untitled (nonvariational test listing do not buy)
141641281759 – Untitled (ANDR Test Auction DO NOT BID OR BUY – SME JSS 4)
141641283434 – Untitled (ANDR Test Auction – DO NOT BID OR BUY – SME JSS 2c)
141641527455 – Untitled (test item 9 please do not buy/bid/make offer thank you!)
141641530591 – Untitled (Test – GSP Item w/alternate shipping to Canada – Do not buy)
141641534606 – Untitled (Test – do not buy ss MM sale)
141641537727 – Untitled (padebay tw test item do not bid or buy s2f)
141641808278 – Untitled (TEST Listing – DO NOT BUY!)
141641814870 – Untitled (Test Test Test yellow –DO NOT BUY, NO ITEM FOR SALE)
141641818449 – Untitled (Test Test Test purple –DO NOT BUY, NO ITEM FOR SALE)
141641836211 – Untitled (Test/DO NOT BUY!! – cbt)
141641843824 – Untitled (04-01-15 09 02 00 AR_AUTO-EBAY TEST AUCTION-DO NOT BID_BUY- AR Sell Similar)
141641845745 – Untitled (IEAPP sgqa_test_listing DO NOT BUY autorl_bin)
141641847902 – Untitled (Test test test)
141641851666 – Untitled (MOBIARCH – LM – TEST AUCTION RNM 4)
141641854481 – Untitled (US ANDR TEST – DO NOT BID-TEST AUCTION CALC SH WW)
141654847351 – Untitled (IOSAPP -KR- TEST ITEM. DO NOT BID OR BUY. fp)
141654845250 – Untitled (IOSAPP-KR- TEST ITEM. DO NOT BID OR BUY. fp2)
141654880042 – Untitled (TEST ITEM, DO NOT BID OR BUY (TESTIN PARIAL FVF))
141654878064 – Untitled (THIS IS A TEST ITEM & SHOULD NOT BE SEARCHABLEIN THE UK)
141654876339 – Untitled (Generic Test listing DO NOT BID)
141654868422 – Untitled (Test listing. do not bid. MD)
141654865687 – Untitled (Test listing, do not bid. MD)
141654861192 – Untitled (test listing test listing)
141654857629 – Untitled (Test listing do not bid 3)
141654855266 – Untitled (ITAPP – ER – Test Auction DO NOT BID – best offer)
141654852748 – Untitled (Test – do not buy ss Product test)
141654850407 – Untitled (Test – PLEASE DO NOT BID – No International)
141654848718 – Untitled (test – do not buy ss list according to schedule DO NOT END)
141654843357 – Untitled (padebay sl – test listing – do not bid or buy – BIN)
141654842527 – Untitled (padebay sl – test listing – do not bid or buy – BIN)
141654840550 – Untitled (Test – do not buy ss Single State)
141654839160 – Untitled (Ieapp JS Test Auction Do Not Bid Or Buy Ip Bo Bin)
141654836126 – Untitled (IEAPP TN TEST LISTING, PLEASE DO NOT BID)
141654572102 – Untitled (TEST LISTING DO NOT BID – EBAY USE ONLY – Send Auct Test)
141654528649 – Untitled (IEAPP E2E TEST DO NOT BUY OR BID AA BIN)
141654526907 – Untitled (ANDR TEST E2E DO NOT BUY OR BID SOLT)
141654526320 – Untitled (ANDR TEST ITEM DO NOT BUY OR BID SOLT)
141654525050 – Untitled (ANDR TEST ITEM DO NOT BUY OR BID BAT AA AUC)
141654524413 – Untitled (Test Listing — Do Not Bid or Buy — Toy Robot)
141654523346 – Untitled (BestOffer MP Test TV DO NOT BID TV)
141661377133 – Untitled (FREIGHT TEST ITEM – DO NOT BID OR BUY)
141661378670 – Untitled (TEST SCHEDULED LISTINGS ITEM SPECIFICS)
141691710058 – Untitled (Padebay sl test listing – do not bid or buy – bin)
141691707260 – Untitled (Padebay sl test listing do not buy – pa)
141691703715 – Untitled (Padebay Sl Test Listing Do Not Buy – Pi)
141691693988 – Untitled (ANDR Test Auction DO NOT BID OR BUY – Auc 2 res)
141691690445 – Untitled ( Details about IEAPP AM TEST LISTING DO NOT BUY autorelist)
141691301280 – Untitled (Andr MOTORS TEST DO NOT BID OR BUY)
141691064737 – Untitled (ANDR TEST ONLY DO NOT BID OR BUY MULTI PHOTO BH)
141691062118 – Untitled (

)
141755466174 – Untitled (Andr MOTORS TEST AUCTION DO NOT BID OR BUY – NOTES)
141755476894 – Untitled (ANDR TEST ITEM DO NOT BID OR BUY STANDARD AUCTION 1)
141755511088 – Untitled (ANDR Test Auction DO NOT BID OR BUY – SME JSS 2)
141757652023 – Untitled (test – ek – please do not bid – free shipping)
141757654997 – Untitled (Test do not buy ss android)
141758179472 – Untitled (PAYMENTS TEST ITEM – MBIN COMMIT 02 – JERBEAR)
141758334649 – Untitled (TEST DO NOT BUY!!!! BooYah!!)
141758344566 – Untitled (variational test listing do not buy)
141758402675 – Untitled (IEAPP sgqa_test_listing DO NOT BUY dcsctrl)
141758406551 – Untitled (sgqa_test_listing DO NOT BUY IEAPP2)
141758410093 – Untitled (IEAPP sgqa_test_listing DO NOT BUY SA2res)
141766501572 – Untitled (SELLING-KR- TEST ITEM. DO NOT BID OR BUY. fp)
141729406 – Untitled (ANDR Test Auction DO NOT BID OR BUY – SME JSS 1)
141729404932 – Untitled (ANDR Test Auction DO NOT BID OR BUY – SME JSS 2)
141729413843 – Untitled (ST MM Do not bid or buy 390)
141726984486 – Untitled (ANDR Test Auction DO NOT BID OR BUY – SME JSS Related 1)
141691854859 – Untitled (IOSAPP-KM TEST ITEM. DO NOT BID OR BUY.auc)
1417294070 – Untitled (ANDR Test Auction e2e DO NOT BID OR BUY – auc 3 sch)
141831658620 – Untitled (ANDR Test Auction DO NOT BID OR BUY – res kdd)
141831663142 – Untitled (Itapp er test auction do not buy – multi bin)
141831667692 – Untitled (TEST F 77737VCB SFGHTQTEEG HK_U2)
141831674795 – Untitled (Beer statue TEST – DO NOT BUY)
NOTE: A limited number of the following prints were available for local pickup only as part of Over The Opening (OTO) curated by MTAA and Michael Sarff at Internet Yami-Ichi New York, September 2015:
Untitled (ANDR Test – Do Not Bid or Buy – KB MSKU B IN BO 1)
Untitled (another nonvariational test listing do not buy)
Untitled (TEST ITEMS ONLY – DO NOT BUY!+20130904113916)
Untitled (Test Listing Do Not Buy_beer)
Untitled (Test Only Do Not Buy – Hugh)
Untitled (CPSQA TLW test item do not bid or buy bo)
Untitled (NCB SVI TEST DO NOT BID OR BUY)
Untitled (Test Test Test – Ios2)
Untitled (US ANDR TEST – DO NOT BID-TEST AUCTION CALC SH WW)
Untitled (Test Item Do Not Buy_lksdfoasjlkhjglkashfdl)
Untitled (nonvariational test listing do not buy)