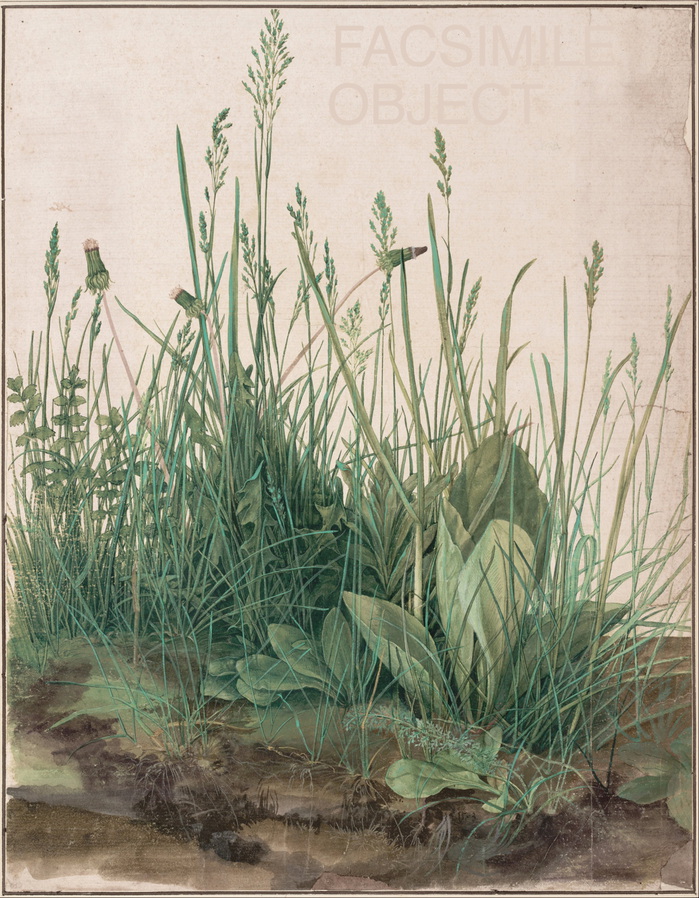 Would you believe me if I told you this was Dürer's Great Piece Of Turf and not an altered jpg?
In a fascinating and frustrating essay on aeon, art historian Noah Charney tries to very diplomatically address the fact that major museums are displaying reproductions of major works on paper by the likes of Egon Schiele and Albrecht Dürer. The museums often disclose this non-trivial fact very obliquely, or not at all:
That evening, art forgery was the subject of conversation in the museum's stylish black marble restaurant. The patrons of the Leopold lamented that they could show their best Schiele drawings (the ones that drew pilgrims) only for a few months at a time. The rest of the time they were in darkened storage, to minimise their exposure to light, and reproductions were displayed in their place. Someone from the Albertina sympathised. She explained that Dürer's marvellous watercolours, Young Hare and Tuft of Grass, are shown to the public only for three-month periods every few years. Otherwise they reside in temperature-, light- and humidity-controlled Solander boxes in storage. Had I had the chance to see them?
Indeed I had, and while I had been suspicious that something wasn't quite right about them, I would be flattering myself to say that I immediately knew they were reproductions. Today's printing technologies make it difficult to distinguish high-quality facsimiles from originals, at least not without taking them out of the frame and examining the back (which holds a wealth of clues about an object's age and provenance), or looking at the surface in detail, without the interference of protective glass. In an intentionally shadowy alcove I could sense that something was off, but not exactly what.
"Three months every few years"? Did the Albertina leave the reproductions up when they loaned the originals to the National Gallery in 2013? Wouldn't it have made more sense to just loan the reproductions, and let the originals rest in safety?
I wish Charney would have brought more contemporary notions of reproduction to bear here, beyond a namecheck of Benjamin. And the aeon context doesn't help, teeing up with a clickbaity question "Is there a place for fakery in art galleries and museums?" and soliciting comments with a moot one: "When it comes to art, can a reproduction stand for the original?" When some of the world's leading museums swap facsimiles as a matter of course, the answer is obviously yes. I'd just like to find out more about how they do it.
Is there a place for fakery in art galleries and museums? [aeon.co]
Previously: The Great Piece of Merch