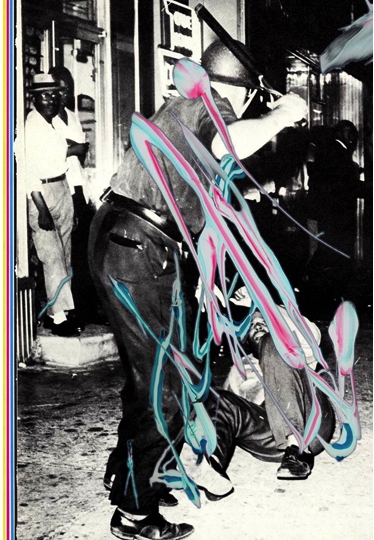 Kelley Walker, Schema Aquafresh plus Crest with tartar control, 2003, digital file, image: camstl.org
I am not at all ready to address the discussion and protests surrounding the exhibition of Kelley Walker's work at CAM St Louis, but the statement by Paula Cooper caught me up. "The role of the artist, it has been said, is to ask questions, not answer them." Chekhov said that, and he's not wrong, but not right enough, either.
And KareemEstefan responded, in a tweet exchange with Pedro Velez, "True–but does Walker know what Qs his art is asking?"
That reminded me of the paragraph I'd cut from the top of Mirta D'Argenzio's Rauschenberg essay I quoted yesterday. I am pretty sure this is the artist speaking:
"Gertrude Stein said on her death bed when they asked her what the answer was and she said, 'What is the question?' So I have to keep the question changing. The only way to do that is with an open mind." It's rather like the riddle of the sphinx. Rauschenberg, the insatiable, suggests that the riddle be left unsolved, and indicates that the very purpose of art is to keep changing its questions.
The very purpose of art is to keep changing its questions.
It seems to me that this is what is happening to Walker and his work in the 13 years since he made it. Not only have the questions changed, the audience has, too. And sounds like neither the artist, the curator, nor the institution understood that.
The sharpest thinking I've seen on Walker's work is still Glenn Ligon's essay in Parkett from 2010 [pdf]. Ligon finds the utter insufficiency of thought or discussion around Walker's use of black imagery to be significant in itself, both a "dilemma" and a source of "enormous vitality." He correctly identified "Kelley Walker's Negro Problem" as the art world's problem, too. And America's. He's still right.