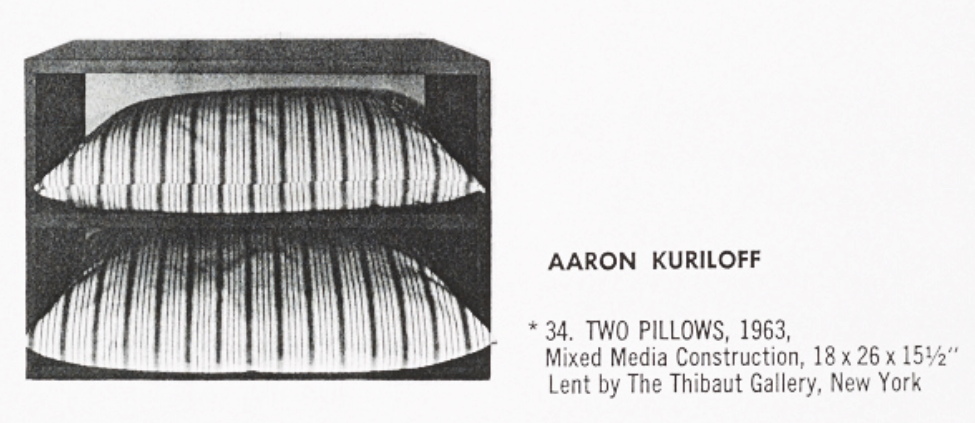 Aaron Kuriloff, Two Pillows, 1963, image and caption from Walter Hopps' Boxes catalogue, Dwan Gallery, 1964, image: aaa.si.edu
In his Dwan Gallery catalogue essay, James Meyer calls him "a now-forgotten trader in readymades," but I recognized Aaron Kuriloff's name from Donald Judd: Complete Writings 1959-1975. Judd reviewed Kuriloff's April 1964 show at Fischbach Gallery for Arts Magazine. He did not like it, dismissing the artist's lightly assisted readymades as domestic misfires done better by George Brecht.
Now that I've seen some pictures, though, I'm kind of intrigued. For Boxes, the February 1964 group show organized by Dwan Gallery director John Weber, Andy Warhol sent three Brillos and a Heinz Ketchup, scooping the Stable Gallery by a month. And Kuriloff sent Two Pillows, 1963 [above], in which blue ticking-covered pillows were inserted in a blue-painted wood shelf.
No wonder Judd didn't like it. I bet Haim Steinbach would, though. And Mark Stahl, who had a similarly promising-but-brief career with similarly found objects in the 1980s.
No less than Brian O'Doherty liked Kuriloff's work, too. He reviewed the Fischbach show for the Times:
Both these shows, one [George Ortman] turn­ing symbols into objects, the other [Kuriloff] objects into symbols, make a new cross‐roads where the traffic is getting heavier –a cross‐roads at which Jas­per Johns originally planted his painted flags, breaking our reflex responses to the most loaded of symbols.
I'll add some more images of Kuriloff's works from 1963-67, the only period I've been able to find so far, and let's just have a fresh look.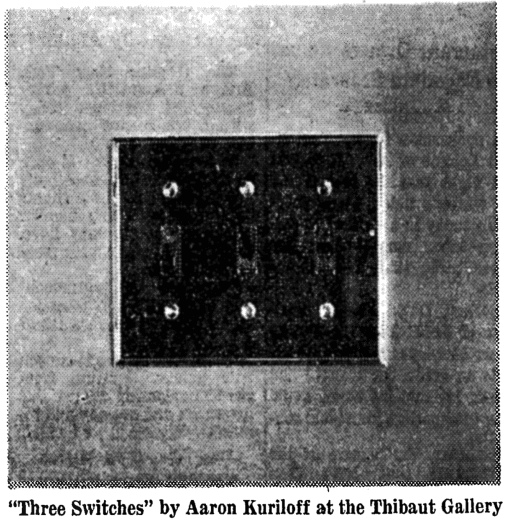 Aaron Kuriloff, Three Switches, 1963, Thibaut Gallery, image via nyt
The Times has at least two other reviews of Kuriloff's work, both illustrated. In December 1963, he was in "Hard Center," a group show at Thibaut Gallery organized by Elena and Nicolas Calas. From Brian O'Doherty's review it sounds like it focused on the recontextualization as art of mass or consumer objects, an early example of Pop getting in formation. And the artist list shows just how far Pop has shifted since: Robert Breer, Nicolas Calas, Kuriloff, Walter de Maria, and Robert Morris. There's a catalogue out there somewhere.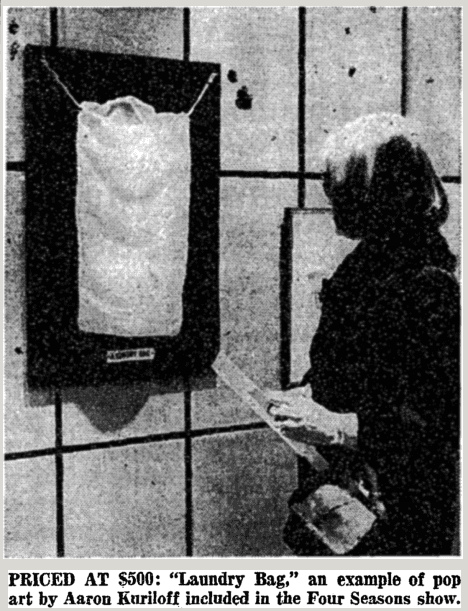 Aaron Kuriloff, A Laundry Bag, installed in 1965 at The Four Seasons, image: nyt
In 1965 Kuriloff is mentioned in a benefit sale/exhibition held at the Four Seasons. It seems kind of a mess, frankly, and the Times report doesn't do it much justice, just sneering at now-acclimated art audiences not rioting over Pop Art. Kuriloff's A Laundry Bag was just that, mounted against a green background, with a label, Erased de Kooning Drawing-style. Priced at $500 for mental health charity, it's not clear if it sold.