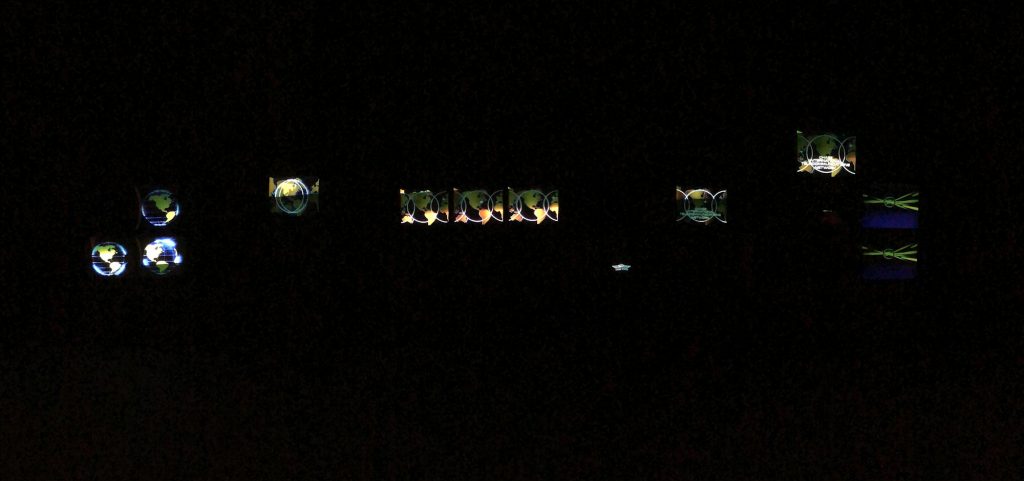 The Hirshhorn Museum offers non-hearing or non-sighted visitors transcripts of audio or video artworks they exhibit. In some cases those transcripts come from the artist or their dealers. For the video art show in the lower level, you can read along for the entire performance of a Polish opera in Jasper & Malinowska's Halka/Haiti, or [no thanks] all of Frances Stark's sex chats. [The transcript for Arthur Jafa's Love Is The Message, The Message Is Death, though, only includes the lyrics to the Kanye West song he laid down, not the dialogue in his video montage.] When they don't exist, though, the Hirshhorn produces their own descriptive, transcriptive text.
Anyway, I noticed the existence of these transcripts while watching Gretchen Bender's Dumping Core (1984), a rapid-fire, multi-channel video installation that plays out over 13 monitors arrayed throughout a black box gallery.
The improbability of the existence of one of Bender's major works was already next-level. MoMA apparently helped restore or recover the work, which had only been exhibited as an abbreviated documentation video like my pic above, as recently as 2013. But the idea of a translating a frenetic video wall into a narrative text seemed too intriguing to ignore. And translating that back into an audio experience? If Bender wouldn't have approved, I think she'd disapprove in the right way.
Gretchen Bender, Dumping Core, 1984, acquired in 2016 [moma]
Bender's piece is included in Brand New: Art & Commodity in the 1980s at the Hirshhorn through May 2018 [hirshhorn]
Press Release for Gretchen Bender's Dumping Core premiere at The Kitchen in 1984 [the kitchen]
Press Release for The Kitchen's 2013 show, "Gretchen Bender: Tracking The Thrill" [artforum, pdf]
Download Better Read #019, Gretchen Bender's Dumping Core at the Hirshhorn, 20180223 [greg.org, mp3, 4.9mb, 10:00]
Podcast: Play in new window | Download
Subscribe: RSS